Once again, we are so happy to be doing the #25daysofChristmas activity calendar this year.  The festive brain child of Andrea from A Peak inside the Fishbowl, this is an advent calendar that brings us together to do activities.  My list for this year is below.  I kept it very similar to last year but changed it a bit based on our schedule this year. 
Today we decorated our note cards and did activity number 1 – letters to Santa!!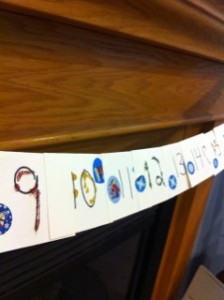 Are you participating? There's still time!
1. Write and mail letters to Santa.
2. Paint a paper Christmas tree for the wall.
3. Sing Jingle Bells – get a special chocolate treat.
4. Dessert for supper, supper for dessert!
5. Make hot chocolate.
6. Select 2 toys to donate to other children who need toys.
7. Make a paper snowman for the wall. Play 'pin the face on the snowman'
8. Make Christmas cards for family
9. Sing Frosty the Snowman. Enjoy a special chocolate treat.
10. Play the 'wrapping paper' music game – find a surprise!
11. Make paper snowflakes and decorate the windows
12. Bake a batch of Christmas cookies.
13. Sing Rudolph. Enjoy a special chocolate treat.
14. Using pine cones, make bird feeders with peanut butter.
15. Make a list of ten things we are thankful for. Hang it where you can see it every day.
16. Play Christmas hide and seek with a Christmas bear! Can you find him?
17. Christmas PJ party! Stay in your pjs all day, watch Christmas shows, read Christmas stories and snuggle!
18. Bring Snow in the house to play in a bucket. Put some in the freezer, some in the fridge. What happens? Read the book 'Snow'
19. Make and enjoy hot chocolate!
20. Make a paper chain for the mantel.
21 Buy a toy and bring it to Toy Mountain.
22. Sing We Wish you a Merry Christmas. Enjoy a special chocolate treat.
23. Bake and decorate Christmas cupcakes.
24. Unwrap one present (mommy and daddy get to pick which one)
25.  It's Christmas Day. Remember you have a family who loves you. And that's the most important gift of all.