Sometime when I say to the kids 'let's paint!' I wonder what I was thinking. 
There are very little activities we do that make so much mess, and yet, I think it's one of the most fun activities to do. 
Painting gives the kids a chance to be creative and messy and just have fun. 
I have learned a few tricks over the years though.  So, if you have a little one that you are finally going to let paint, these tips may help:
Set up all materials beforehand.  This includes the paints in little bowls, brushes, wet towels, paper etc.  Do not turn your back on painting toddlers! 😉
Dedicate a paint blanket for future activites to set up on the floor or under an easel. 
Dedicate a towel for clean up that will always be the paint towel.  Even though the paint may be 'washable' it often doesn't come out of clothes/material.
My kids paint in one of two ways: with no clothes on, or a smock. 
Draw a bath and have it ready to go for after the activity.  It's the easiest way to clean up.
Painting can seem messy but it's very fun.  Talk to your kids about colour combinations, use different materials as stamps (cookie cutters, sponges, feathers, pipe cleaners – anything!) and just have fun.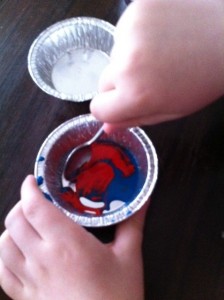 (**side note: Those are my son's hands.  Why do they look so big?!!)
We have done finger painting, with our feet, on an easel, on tables, on the floor – anything goes some days!
PS: Even if you use a paint blanket, there is a good chance the paint may seep underneath.  Be careful when using carpet.  This is experience talking!
Do your kids like to paint? Do you let their creativity reign?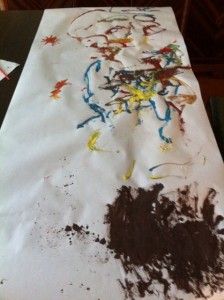 *I'm once again a Crayola Mom Advisor.  The smock that my daughter is wearing is one of theirs.  Love it!