Learning skills: Counting, using scissors, French
Here's an easy activity to do with all ages.  For my toddler, I did the cutting (she tried a bit) while she did the gluing.  For my almost 5 year old, he did the cutting (which is also why there are fewer ghosts – cutting is not his favourite thing!) and I helped him with his writing.
I had my son count in French (actually, that was his idea) but being super smart, I thought I'd write out his numbers too.  Then realized later that I spelled the number 'one' in French wrong (it's not UNE it's UN).  So, Andy and I have decided Andy will take more of a lead on the French (ha!)
Enjoy!!
1- Give each child a piece of construction paper (my daughter insisted on pink instead of Halloween orange!)
2-For younger children, cut out the ghosts for them.  For older children, have them cut the ghosts.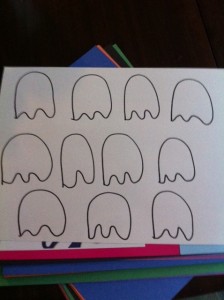 3-Glue the ghosts anywhere on the page.
4-Using sticky backed foam (or felt, or black markers) add the eyes on the ghosts.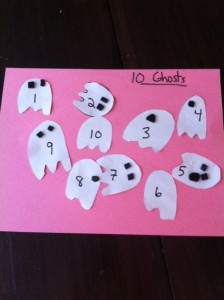 5-Count (in any language!) the number of ghosts you have.
(BUT be sure you are teaching your children the correct spelling of words! 😉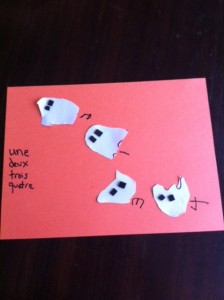 To go along with this activity, we also have the best Halloween Counting book – this is a favourite each year!