I am really excited to be welcoming Eko Bear as a Bit of Momsense advertiser.  I've been a customer of Eko Bear for some time, so it's rather easy for me to talk about their great products.
Featuring green and eco-friendly toys, crafts, puzzles, books and more baby/child items, Eko Bear is an Ottawa based online company with lots to offer.
I've gotten birthday presents and Christmas presents from Eko Bear.  For example, one of the most used toys we've gotten is this tea set: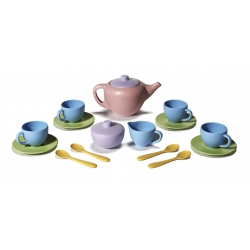 They have a selection for many different ages – such as baby items:
(This Ringley teether was one of my children's favourite teething toys!)
Toddlers (such as this fun Fire truck!):
And older children (There is a huge selection of these crafting kits!)
Eko Bear ships where you are, but if you are in Ottawa, there are 2 free local pick up locations available: Sippy Cup Cafe and The UPS Store in Kanata.
Find Eko Bear on Twitter @ekobeartoys and on Facebook (hint: there are often a lot of deals/sales announcements on their FB page!)
Plus! ShopSense Deal!
Eko Bear is offering an exclusive ShopSense deal for Bit of Momsense readers.  From now until October 23 2011, receive %20 off their new Kiss Naturals kits – a fun activity for your child to make their own soap, bath fizzies, perfume or lip balm.  These are perfect birthday or Christmas presents.  Save on them now!