Thanksgiving weekend had unusually warm weather and lots of sun so after our big turkey meal with the family on Sunday, we decided to head to Cannamore Orchard on Monday for some fun.
We have been here before when our children were younger and with the niece/nephews so we kind of new what to expect.  Lots of outdoor areas to play, some spooky Halloween stuff, wagon rides, apples and pumpkins.  Just what we wanted!
It's about a 30 minute drive East of Orleans to get to Cannamore Orchard.  I was completely shocked that it wasn't swamped with people – given the holiday and the weather.  But while there were a lot, it wasn't overcrowded.
We started with the cow barrel tractor ride and Andy and I had as much fun on that as the kids.
Then we visited the mini-mazes.  There aren't a lot, but for young ones it was good.  The dark one spooked me out and my son wished there were more and more (they are growing some we did hear!).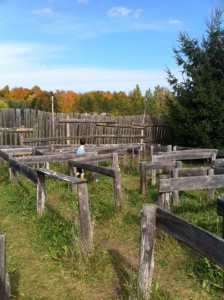 We spent some time in the play area which has a wooden train, a pipe maze and a gazebo covered huge sand box with a lot of toys.
There are a lot of picnic tables on site and they encourage you to bring your own snacks (which we did for the kids) but we also got some fries and hot dogs at the chip stand.
After a quick lunch outside in the shade, we went on a different wagon ride through some of the 'spooky' parts of the property – there are skeletons, grave sites and zombie masks around.  Plus, we passed a lot of the orchards which were extremely aromatic.
We bought some apples and pumpkins and were on our way home.  It was a really fun day and we were happy to go.
Details:
About 30 minutes from Ottawa
Somewhat Stroller friendly
Very child friendly for almost all ages
Cost: 2 and under are free, family of 4 $40.
There was our family (2 adults, 1 child, 1 child 2 and under) plus grandma visiting so we just had to buy the family of 4 pass.
Verdict: Fall Fun had by all!
(note: there are evening activities that are far spookier – haunted house and spooky wagon ride!)