It's time for another Sobeys gift card giveaway!
I had the opportunity to purchase the new Sensations by Compliments wild fish frozen packages.  They come in portions of two.
With the gift card we purchased the Halibut and the salmon.  Both fish are sustainably caught and are wild.  More information can be found on their website.
Each package has a numbered code on it and a QR code (very cool!) that when scanned brings me to the website (although it was a little tricky to read at first-mobile friendly? But once I select the province it was easier to read).  The site directs me to enter the numbered code and it tracks where dinner came from!
It's really interesting to see where the fish was caught, the fisherman who caught it, how it was caught and the company who processed it.  How great is that?  I shared it on Twitter and others were able to see where my dinner was arriving from (both the salmon and halibut we had were from BC).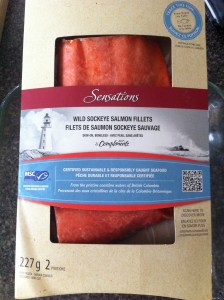 Since trying it we now keep it stocked in the freezer for easy, quick meals (you can find salmon and fish recipes on A Little Bit of Foodsense).
WIN!
Sobeys is generously giving readers a chance to win a $30 gift card so you can try them too!
To enter, simply leave a comment below and let me know where you go to find local food.  The market? Great grocery store? Your own garden? Share for a chance to win!
1-One entry per person
2-Open to Canadian residents only, excluding Quebec
3-Giveaway closes October 27, 2011 at 9 pm EST
Disclosure: I was given a Sobeys gift card to try out this product but now love it and have added it to my weekly grocery list! Opinions are my own