I love Halloween.  I love the idea of dressing up and having spooky fun.  When I was a kid my siblings and I would start in September to short list costume ideas.  We were creative, and most of the time made everything by hand or pieced it together at least.
Now, admittedly, with inexpensive costumes, I have gotten slack and buy a lot of them.  Granted, they all end up in our dress up bin or I consign them.  Last year, I found my daughter's costume at consignment and my son's Dragon costume from two years ago is still part of our knights and dragon's dress up box.  It's a small way to be eco-friendly, but it works for now.
As the kids get older, they have a bigger say in what they want to be for Halloween.  My son knew for sure he wanted to be Super Mario this year.  I'm still hoping to convince my daughter to be whatever costume I may find, but she goes back and forth between asking to be a princess and a bunny.
But in my search for costumes, I started to worry about what I was seeing for options.  Cute animals for the age 2-5 set are hard to find.  Instead, there are multiple variations of a princess, or what is being called 'pretty' or 'purty' costumes.
Case in point, this cat.  Instead of being a cute kitty (like my daughter was last year) in fluffy costuming, an option is this barely-there cat print 'dress'.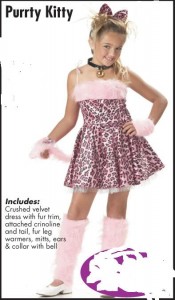 First, Canadian Halloween's typically mean snow boots and coats, so how this would be at all practical is beyond me.
Secondly.  Really? I mean.  REALLY? So at age 7 let's say, girls should be going as 'purty' kitties.  No thanks.  Do we need to add sexiness into young girls' Halloween costumes?
When I was 7 I wanted to be a wizard, witch, typically something scary or gross.  Once I went as a princess – to the high school costume dance – but my nerdy self couldn't even do that normally.  I was a princess from another dimension, trapped here by some demonic force.  Seriously.  I had a back story.
And here's the kicker – at these younger ages, we, as parents, still have control over costume purchasing and development.  We don't have to give in to this.  And sure, while some aren't going to wear the plush, fuzzy bear costume, there are options.  (For example, a very fun pre-teen pirate costume I saw).
Oh, and I should note – the boys costumes for this age group? Lots of options.  And while they have 18 super heroes to choose from, none of them are 'pretty' super heroes.
How do we draw these lines for children? How do we educate them to have fun with Halloween and not think of it like a beauty contest?
*disclosure: I have a princess/dress obsessed little girl in my house.  Stay tuned to see what princess she ends up being for Halloween – but note: She'll be covered!