So excited that one of our new advertisers is a renowned museum here in Ottawa.
I have heard nothing but fantastic things about The Canadian Children's Museum, a part of the Museum of Civilization (a favourite of mine), however, I haven't ventured there with my children yet.  Which I know, is terrible! I promise to go soon.
That is such a shame, but we'll be changing that with the new Much More Munsch Exhibit that is taking place between October 8, 2011 and April 9 2012.
Who hasn't grown up reading Robert Munsch?  And I would gather that a large portion of mothers receive the "I Love You Forever' book for a gift.  I certainly did.
Now, our children can explore the hands on world of Robert Munsch with activity centres, playing with words, story telling and more.
There is also the Much More Munsch Puppet Show (now you are really excited aren't you?!) on Friday, November 18 at 10 am and Saturday, November 19 at 11 am and 2 pm.
Munsch fans of all ages will love this Munsch extravaganza presented by Wide Open Theatre of Saskatchewan. The 60-minute Much More Munsch Show features 35 puppets and six of Robert Munsch's stories. A live narrator engages the audience, promising heaps of participation and fun for all. The puppets rescue a wedding party, chase runaway hair, invite an entire school to a birthday party, and Munsch more!

Featured stories: Angela's Airplane, Ribbon Rescue, Get Out of Bed, Aaron's Hair, Purple Green and Yellow, and Moira's Birthday. Wide Open's Much More Munsch Show received 5 stars and earned a spot on CBC's Top Ten Picks of the 2010 Fringe in Winnipeg.
Tickets are $8.  Visit the website for more details about this interactive performance.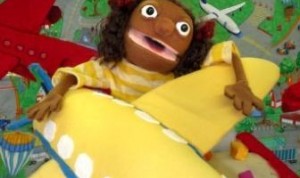 A Little Bit of Momsense is very excited to welcome the Canadian Children's Museum and the Much More Munsch Exhibit as a new advertiser.
Giveaway!
The museum is giving A Little Bit of Momsense a family pass (up to 5 tickets) to see the Much More Munsch Puppet Show on Friday, November 18th at 10 am (note: some schools in the Ottawa area have a PD Day that day!!)
To Enter:
Simply comment below what your favourite Robert Munsch story was, or which one your children love best. Not sure? Share a favourite family moment about reading.
One entry per family please.
Giveaway open to Ottawa area residents (excluding Quebec). 
Winner will be drawn at random on Sunday, November 13 at 9 pm EST
Winner will pick up tickets at the museum box office
Good luck!
ps: Unable to make the November 18th show? Enter to win tickets to a November 19th show over at A Peak Inside the Fishbowl until November 8th, or purchase tickets available at the Museum Box Office, or by calling 819 776-7000 (service charges apply).