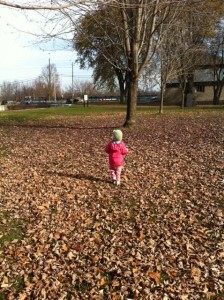 After school pick up (which is in the morning), we made a quick stop at Starbucks and drove to Merrickville (located on the Rideau Canal) with the kiddos.  We've been there before (and were there a lot pre-children), so we knew what to expect.
On a beautiful day like this, it was a nice opportunity to take a drive, picnic outside, play in the leaves and shop the little local stores a bit.
Highlights always include ice cream and fudge at Country Bumpkins.
It's about an hour and 15 minutes south of Ottawa.  There are multiple restaurants (although, with the kids, we weren't there for a restaurant meal) and lots of cute shops to check out.   Most of which have Christmas decorations and gifts at the ready.  Stop by the small, but affordable and lovely Millers of Merrickville, located right on the corner of the main street.
It was a full and fun afternoon, and if you get the chance, I recommend you check it out.  There aren't loads of parks and kid-specific places to play, but as a family we like just spending the time wondering around and taking in the drive.
For a fun, family-friendly event, check out Christmas in Merrickville, all day on Saturday, December 3.  There will be barrel fires, snacks, hot chocolate and wagon rides.