It was a pretty easy task heading to my local Sobeys to try out some of the Sobeys Sensations products.  This time of year, our house can be a revolving door of visitors and the need to snacks and food to be on hand at all times is great.  I always try to keep something in the freezer, in addition to cheese, crackers and vegetables.
The selection of Sobeys Sensations by Compliments products is quite large – if you haven't picked up their free magazine Inspired with products listed inside (and recipes!), I recommend you do.  It was difficult deciding what I wanted to try because everything looked so great!!
I settled on the following:
Shrimp au gratin
Thai Golden Purse hors d'oeuvres
Sensations Goat cheese Brie
Sensations Water Crackers
Tartlettes au citron
Mini chocolate enrobed cheesecakes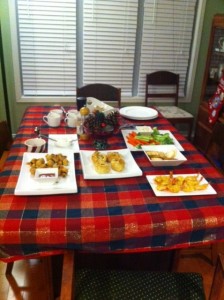 I invited my parents over to taste test with us, and made a complete meal out of it by including a veggie tray, some salmon Wellington and small cups of soup.
I love the idea of buffet style meals during the holidays.  It means people sit around and snack while chatting and laughing.
The verdict on each of the products was that they were delicious.  Even my non-shrimp eating mom liked the golden purses.  We dipped them in Compliments sweet chili sauce and they were really great.
The garlic shrimp was tasty and easy to prepare.  The crackers went well with the dip I put out and with the brie.
I love lemon in my dessert so I was rather partial to that, but the group felt hands down that the chocolate covered cheese cake bites were perfect and worth getting again.  They are a great way to end a meal and are beyond delicious.  They are very sweet however (for those that don't have a sweet tooth.  I have the biggest one of all).
Win it!
You have a chance to try out these products yourself (or others) by winning a $30 gift card from Sobeys!
To win, simply comment below and tell me your favourite holiday dish.
Giveaway is open to Canadian residents, excluding Quebec.  Winner will be drawn at random from eligible entries on December 14, 2011 at 9 pm EST.