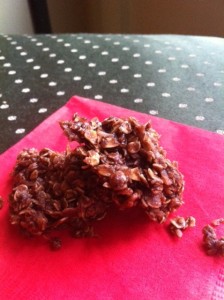 This is one of the oldest cookie recipes I can remember making . Because it doesn't require the use of the oven, it was one that when I was old enough to use the stove, I was more than happy to do.  They are tasty and simple and perfect for holiday sharing!
Unbaked Cookies
Ingredients:
2 cups sugar
1/2 cup butter
1/2 cup milk
1 tsp vanilla
1/2 cup cocoa
3 cups quick oats
1 cup shredded coconut
Directions:
1-In a pot, melt sugar, butter and vanilla together.
2-Stir in milk and cocoa until well blended.
3-Add oats and coconut. Stir well.
4-Scoop each cookie (the size you desire) and spoon onto parchment paper, wax paper or foil.  Allow to harden.
 ETA: Because of the use of milk, I often refrigerate these cookies or freeze them, if they last long enough!