For those of you interested in this sort of thing, here's the floor plan of my current home.
The wish list if we renovate (which is what we are thinking) would include a new kitchen, better storage, new carpet (the only carpeted areas are stairs, kids' bedrooms, hallway upstairs and basement), new mirrors and lighting where needed (we have some builder lights still!) and organization where ever possible.
The main floor is hardwood, including the kitchen, but that may change depending on what renovations we did in the kitchen.
I have a feeling our dream kitchen may be a little bit more expensive than what the budget in my head is 😉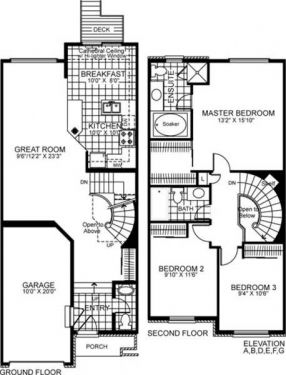 The basement isn't shown, but it's basically the size of the great room.  There's a separate laundry room (where the furnace is) and another unfinished storage space.
My mind is thinking a lot about this now!