When my children reached the age where they could finally start to play board games, it was a wonderful new activity that we could do together.  But some games are simply too complicated for the toddler/preschool set.
Fortunately, we have 3 family favourites that my toddler can play but also my school-aged son is still interested in playing (this is essential for those afternoons when I am trying to make everyone happy!)
What are these three board games that have been well played, well loved and don't drive mama crazy?
1) Memory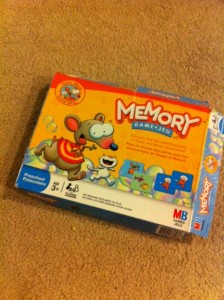 It's a classic.  This Toopy and Binoo version is well used and fun.  But the game can be played with a deck of cards or a fun activity is to make your own cards with your favourite characters, upper/lower case letters and so on!
2) Hungry Hungry Hippos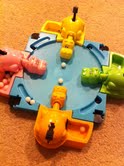 Another classic that we all played as kids I'm sure.  Now the 'marbles' are plastic, but the game play remains the same.  Simple for little hands to get used to, and exciting enough for our mini competitors to get into the spirit of wanting to chomp chomp chomp!
Extend the game (and learning opportunity) by taking turns counting how many balls everyone got.
3) Cariboo Island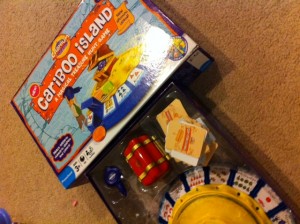 This is a branch of the popular Cranium game, but geared to the younger set.  There are two sets of cards, one for younger children, the other for older, which makes this game great for growing with the kids.  Select a card, then with the key open a box that fits the requirement (by colour, shape, letter etc) and search for coins.  Collect 6 coins to open the treasure chest!
ETA: Honourable Mention: Candyland.
How did Candyland become the game parents have grown to not love but the kids do? Especially those of us with special versions like Dora? This gets an honourable mention because we don't own this game, but Grandma does, and it's well loved and used each time we visit 😉
A really fun game for all of us.
What are some of your favourite board games for younger children?  Do you like playing board games? Honestly, I can't wait for the kids to get old enough for games like Scrabble, Monopoly and Trivial Pursuit!