I feel like a kid in a, well, toy store, when I visit Tag Along Toys.  Located in the west end of Ottawa, Tag Along is a locally run neighbourhood toy store that is just amazing. I say that as a customer who can go in there and spend way too  much time some time shopping.
Now I have the pleasure of welcoming Tag Along Toys as a Bit of Momsense advertiser!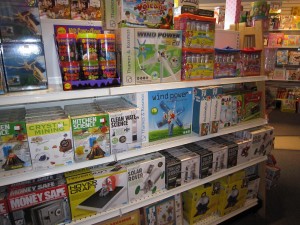 Tag Along Toys opened in September 2001.  It was started by Patti Taggart who saw Kanata was a growing Neighborhood in the West End of the city and wanted to combine her love of learning, children and fun.
I had worked as an Early Childhood Educator at Algonquin College Early Learning Centre with Infants to Preschoolers for over 10 years so felt my expertise of working with young children would help me in starting a business relating to children.

I am so proud to see the smiles and reactions on childrens,parents and grandparents faces when they enter the store and they say wow what a beautiful store with a great selection of unique items. I often get emails from customers sharing there experience with me and how we provide such great customer service that they will share with friends.

Also so proud to see my son and how he reacts when he comes in the store to visit and it's like a new place to him every time.

—Patti Taggart, Owner, Tag Along Toys
Having a locally run toy store is important for a lot of shoppers.  Honestly, at Christmas, my mom and I drove from Orleans to Kanata to shop there (happily).   We were both amazed at the selection (such a selection!) as well as the service.
Did I mention that Tag Along Toys offers a 20% off discount on the last Thursday of each month to Grandparents and 10% off everyday to teachers and educators?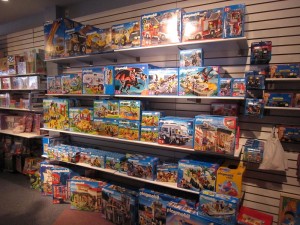 You can find a lot of Playmobil at Tag Along as well as other brands such as Djeco and eco-friendly lines such as Plan Toys, Hape Toys, Blue Orange Games, Kiss Naturals, Green Toys and so many others.
Follow Tag Along Toys on Twitter and Facebook for product updates, discounts and special offers.
Welcome Tag Along Toys!