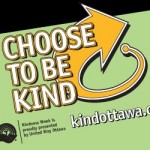 Kindness Week has begun!  Although we know that it should be year round, this is a week to really focus on what we can do, as individuals and as a community, to make our world (and that of our children's) more kind.
I'm blogging on the Kindness website this week and my first post includes my go-to chocolate cupcake recipe.  On Friday, we packaged up the delicious cupcakes and dropped them off at friend's houses as a kind gesture.
I also have a Kindness board on Pinterest that has some really great kind ideas and sentiments that may help to inspire us.
Tomorrow night (Wednesday, February 22) between 8 pm and 9 pm EST, Candace Derickx (@seemummyjuggle, Life in Pleasantville) and I will be hosting a Twitter Party to talk about being kind.  Nothing formal, just a way to share ideas and celebrate how wonderful it is to be kind and witness kind acts.
Lastly, if you have, or are writing about kindness, please don't hesitate to post it on my Facebook page, or in the comments below so that I might help share the word!  Use the #kindottawa hashtag on Twitter and follow the Kind Ottawa page for event information and more kind details.
Happy Kindness Week everyone! What are you doing to be kind?