So after my post early in the new year about whether or not we will renovate this home we are currently in, or look to buy a new one, we quickly decided to stay put and renovate.  In re-reading the post, I suppose I was pretty well talking out loud to confirm what I suspected would be our decision.
We started to look at and talk about what we would want.  I've been on Pinterest gathering ideas like a mad woman! Our ideas quickly became grand, but the reality of staying meant that we wanted to be really happy and plan to stay for a very long time.  We looked at the house as a whole and decided that the first things to be done were:
-Organizing and purging
-Kitchen Reno
-Kids' Rooms
We'll get to the other stuff later, but the master bedroom, basement playroom and so on are really areas that need cosmetic, design and organizational work.  Eventually the carpets needs to be done in the basement/stairs area too.  But, I digress! (I do that a lot when talking about our plans!)
We are in a small space, and to continue to stay in it (and yes, I realize that 1800 sq feet is likely *hardly* considered small) we had to start with the kitchen.
Our kitchen is open to the dining area and living area.  It's the main area where we eat, cook, gather when we have company, have dance parties, do arts and crafts and homework.   It's the hub of the house so it took importance.
That's the biggest investment we will have in the house.  So, the first thing we decide was to hire a designer.  After some really informal chats with Meredith Heron on Twitter (@meredithheron), she was really kind about giving me tips and advice when looking for a designer.  It didn't take long for me to finally just say 'um, would you do it?'.  She lives in Toronto and we're in Ottawa.  In fact, she's done projects in Ottawa before so when she accepted it was a dream (and as importantly: Andy was thrilled.  This entire project is very much a 50/50 convo between us, I'm just the front person!)
You may recognize Meredith from Restaurant Makeover and online you can find her blogging about her projects and this and that on her own site.
She's already started putting together some thoughts about the look for the kitchen and living room.  You can see those here (feel free to gush about them in the comments, I'm ready to accept it 😉
I think there's something to be said about finding a fit between designer and yourself before proceed.  We loved Meredith's portfolio and know she'll keep us to budget but push us out of our comfort zone a little (which we need!).
Here's a little 'before' shot: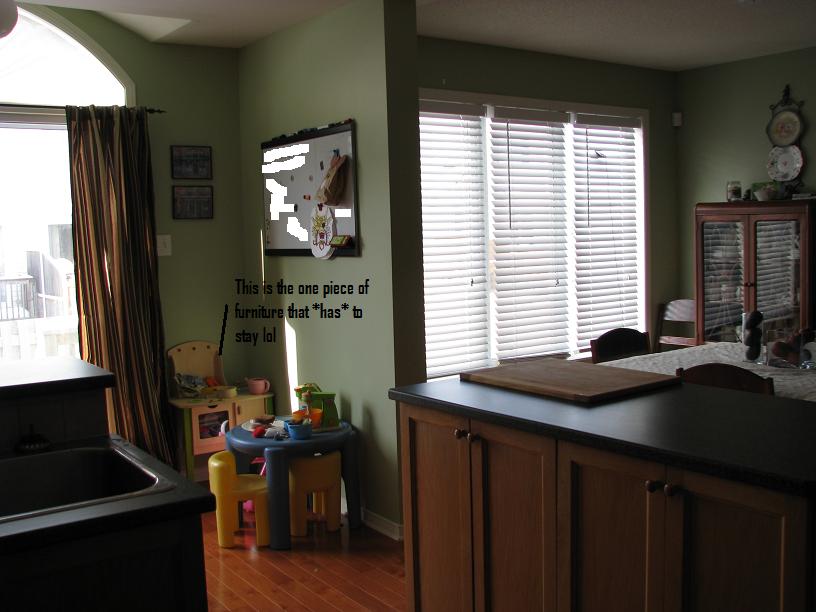 Meanwhile, she continues to work on the plans and soon we'll be getting down to the real hard work of finalizing and actually having the work done.
This means more purging, and eventually packing stuff up temporarily.
Future posts will be coming about all of this – including more kitchen stuff happening, the kids bedrooms (bunk beds of all things have been ordered, someone help me!), about getting rid of furniture (it's time, but I have a hard time) and when Andy and I actually attempt to paint a room by ourselves (don't laugh, we've never done it together. HA).  I've set up a new page to keep links to the posts for those interested in home decor and renovations.
So, it's actually happening.  I'm excited and nervous and everything in between.   Wish us luck!