We had a real taste of spring (summer actually!) last week, and now we are in shock that it's gotten so cold again!
But as we are wrapping up the long, cold winter months, we are looking for new fun activities and adventures to do.
We will continue our gymnastic classes one afternoon a week, the kids are really enjoying it, and while it was odd being indoors on a beautiful day last week, I suspect most of the spring won't have perfect park weather each and every day.
I am noticing that this year is maybe the first time both kids are really independent at the park – that is to say, I don't have to help one of them up the slide steps, or stop them from throwing sand (too often).  They play wonderfully together and being outside seems to widen their imaginations – suddenly they are ninjas, and playing house, and off on top secret adventures.
It's adorable.
Meanwhile, as part of my Disney Junior Mom status, I get some fun sneak peeks at shows and get to share information with you.
The second season of Jake and the Neverland Pirates has begun, and we watched the special show with Peter Pan!  It aired on March 23 (and has been repeated since).  Did you catch it?  We watched it a couple of times now and thought it was fun.  Peter Pan is a part of all of our child hoods I think?  There's some fun Jake and the Neverland Pirates games on Disneyjunior.ca too that the kids have been enjoying!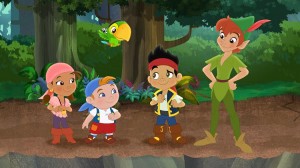 Meanwhile, we were beside ourselves with excitement at the Tangled short that was on this weekend.  It was sooo cute!

While we are back to having our faces pressed on the windows hoping for a nice day to get outside and play, it's great to have some quiet time too.
What are you doing to shake off the winter icicles and enjoy  the start of spring?
Disclosure:  I'm part of the Disney Junior Mom program and I receive special perks as part of my affiliation with this group.  As always, the opinions on this blog are my own.