Last year we decided it was time to do an outdoor Easter egg hunt. What makes this even more wonderful is that we were at my Mother in Law's house. She has acres and acres of property to hide eggs on, so it makes for a really fun activity.
Here are some tips to set up an Easter egg hunt!
1 – An outdoor hunt depends heavily on one thing in particular: The Weather.
Check the weather forecast often and make sure it's going to work out. Nothing worse than having colourful eggs waiting to be found outside and you tell the kids they can't go out. If it's a little spring drizzle, it will still work!
Is the weather looking miserable? Switch from outdoor to indoor. It's still fun.
2 – Hide the eggs at the right time.
Since our children are up so early, we have to set up the hunt the night before. Being in a wooded, country area when I went out with the flash light last year and found my way around the property to place the eggs.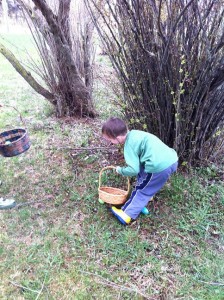 3 – Beware the wildlife.
Having placed the eggs the night before (all were in plastic eggs), the fact was I wasn't sure if they would survive. There were no guarantees that animals weren't going to have their own hunt while we slept! But it was a risk I was willing to take.
When we woke in the morning, we hadn't indicated to the kids that the Easter bunny seemed to have left treats outside. We had to wait for family to come over. But I wasn't very happy when I looked out to the tree and saw that a squirrel had found an egg!! It was funny trying to see him find others though.
4 – Baskets, Set, Go

When it's time, every one can head out and start the hunt. When hiding the eggs, think about the ages and size of the children – put some in easy, low places for little ones, and others in trickier, higher places for the older kids.
The house rule is usually as follows: All eggs get split evenly in the end, no matter how many you found and mom and dad get to select a few for themselves.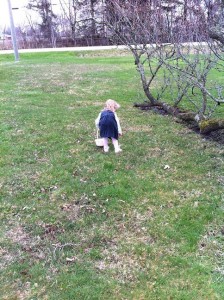 For more about family Easter traditions, check out my blog post on momstown Ottawa
Happy Easter Everyone!!