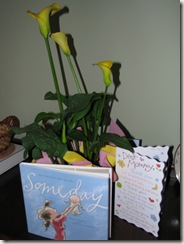 Even though I like to think mom's should be doted on year-round, Sunday is Mother's Day which hopefully means a little extra something special for moms.   I have to admit, I'm spoiled with love all the time, but this day is always nice.  Sometimes we go out, sometimes we just stay in and enjoy the day together.
This year we'll be spending it together just the four of us, and then joining all of my family to celebrate with my mom.  It should be a very fun day.
While I love getting chocolate and flowers and books (year round even), here are a few gifts (aimed to moms with kids still at home) to give that are some of my favourite that cost nothing (or next to nothing at least).   The point: To show her how special she is. It's not about the gifts – it's about the thought. 
Remember – there is not too many times to say 'thank you' and 'I love you'!
1 – Let mom sleep in
Honestly, this is what I want.  And for me, sleeping in could  be 8 am (especially if we decide to go do something).  But sleep, especially for mothers with young children, is still highly coveted and valued.
2 – Her favourite food (at home or out – it doesn't matter, but depending on the age of the kids, whatever involves the least stress!)
Make mom her favourite meal or treat or incorporate it some how.  It can be breakfast in bed (although, I have a feeling that may be tricky here) or have the kids help put together a tasty surprise.  Don't forget the coffee, but let the adults take care of that.  The key here: She doesn't do the planning (or shopping preferably) or the clean up.
A few years ago I got a steak and lobster meal cooked by Andy.  That was pretty impressive.
3 – Home made gifts/cards
It may sound corny, but when your kids run up to you with something they made just for you, you can't help but feel special right?  They get very excited about their creations and I love that.  It's very special.  Not sure what to make dads? Do something simple like painting or stickers on folded paper to make a card.  Or check out these flower crafts by momstown.
4 – Spend time together – but relax
We have a pretty clear 'no cooking or cleaning' rule on Father's Day and Mother's Day (for whoever is the 'parent' of honour).  I like that rule.
I look at Mother's Day as being perfect when I'm surrounded by the family.  I love a little sleep in, even some quiet time to read a book, but I want to spend the day with the kids doing something we all enjoy.  On nice days this may mean drive to somewhere  outside, play time at a park etc.   Even though we'll be joining the rest of my family in the afternoon, having some special time – where I don't have to worry about a meal, about cleaning, about laundry – together in the morning will make my day wonderful.
How will you be spending Mother's Day if you are celebrating (as a mom or with a mom!)