You may remember I wrote about our kitchen renos and designer we hired a few months ago (for a recap and the before pictures, check out this post). Meredith Heron is no stranger in the design or TV world and now I get to welcome her into my home to help make it a house to stay in.  Her plans are already blowing us away (more on that in a few posts!) and we are so excited.
Meredith has been a pleasure to work with.  I suspect part of the design/reno process and experience when working with a professional really has a lot to do with 'fit'.  Finding someone that not only meets your style preferences but also that you enjoy working with.  This process is not easy and the wrong 'fit' could be troublesome.  That's one of the reasons we have been so happy with our process so far.  There's a great fit!
I highly recommend following her blog to see her sketching, fabric loves and design process.  You can also keep up to date on her Facebook page and chat with her on Twitter (@meredithheron).
And seriously, when you see the design stuff you're mind will be blown 😉
Recently Meredith was kind enough to answer some questions about designing and parenthood.  I hope you enjoy her answers as much as I do! (Thank you Meredith!)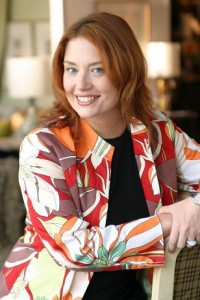 1- You write a fabulous blog called Sashay about your projects, design ideas and more which just won Design Bloggers Best New Blog (congrats!!).  How important has blogging become to designers?
Oh this is a loaded question…
I think that writing a blog is great if you have some sort of social media plan. You MUST have a big picture goal. Writing a blog because everyone else is writing one is a waste of time and undoubtedly you will get frustrated and quit or it will show in the writing. There are other options out there such as a Tumblr or even a Pinterest Feed whereby you can communicate inspiration without having to be tied to a weekly/daily writing journal.  Blogging is about finding your voice and sharing it and it's a SERIOUS amount of work. For me personally it's been huge in two ways: A) it gets my voice and point of view out there for people to see and B) it's way freaking cheaper than therapy. Seriously, it's therapeutic for me I love the outlet it offers.
2- What's a colour trend you are seeing right now and loving? What's one you aren't loving so much?
I don't think that there is any one colour trend out there in decor. I mean people are trying to push certain colours at us and tell us that they are trendy but I really see current design/decor being about following your own heart/interests/trends. Decor has become so much more personal of late whether it be through curation or handmade. I see Decor more often than not telling a story. At least if I have anything to do with it. I hate beige, brown and bland. Especially if accented with Condiment colours of red/yellow/green. Shoot me now. That palette makes me go squirrely. Not Autumnal Decorating. JUST SAY NO.
3- We're re-doing the kids' rooms, trying to keep them fun for their personalities but not too 'kid-like'.  Have you designed your son's room? How did you select the design look to keep both of you happy?
I have designed Luke's Baby-Toddler room – it should be out in the near future in a fabulous Canadian Magazine! I like you, opted to not pigeon-hole the space into a baby/toddler room. I could easily remove the crib and add a bed and call it a snazzy guest room in a pinch. I chose bold horizontal stripes, plaid drapery and bedskirt in an unusual colour combo of periwinkle/indigo/white and then have accented the room in Vivid Citrine, Red and Turquoise if you can imagine. Lots of pattern and interest but the stripes are kept to one wall and the remaining walls are a warm white – very gallery inspired. We have a lot of art on display in his room, including valuable pieces we've collected. I think it is imperative to teach Art Appreciation as early as possible to children. He loves the space but can still sleep in it. Very important in a child's room!!! I don't believe in ever using vivid or bright colours in a child's room. A play room sure. Sleeping Room  NEVER. A room that they do homework in – no way no how. It's important to think about the desired use/outcome before you paint.
 4- What's your favourite room in a house to design and decorate?
Foyers and Powder Rooms are insanely fun because people will usually let you be bold in these areas. I love most rooms but I do find bedrooms the hardest. The bedding scheme is always tricky (well at least if budget is a consideration)…
5- Off the topic of design, anyone who reads your blog knows that you write about life as a mom and your son Luke too.  What are your tips for balancing work and family time?
Me giving advice on the work/life/family balance…. HIGH-LARIOUS. I'm a workaholic. Let's call a spade a spade. You see I'm a former teacher turned interior designer. I made my hobby my passion into my profession. I could work all day every day if I was allowed.
I'm often policed by my son Luke who at 2.5yrs says "Momma, put the (com) pewwwwwter (his pronunciation) down now," or  "Momma read to me NOW not in a second." Humbling to hear that come from a 2.5 yr old. It's a constant struggle for me to be honest. I've gotten better at saying no but I'm a people pleaser so I tend to answer yes and then slap myself on the forehead and say "That wasn't very well thought out now was it!" When you run your own business, it's really like having another child…
What I do do well though is integrate Luke into my work. He is a regular attendee at events that I'm invited to or are involved in. He travels with my husband & business partner Asa all the time. In fact, if he's not welcome, I often decline, though I rarely ask and just bring him along. He loves being a part of our world and is very adept at selecting fabric swatches. He's most especially fond of any projects that involve us going to a restaurant or designing a restaurant though, he is familiar with many of our clients' by name and often asks to go and visit their very nice houses.