For the past couple of years we have been travelling to Wakefield and Chelsea on a weekend, just for the morning usually.
It's become a bit of a favourite spot for all of us.  When the weather is looking nice and we aren't sure what our weekend plans our, it's not surprising for either Andy or myself to suggest a Wakefield drive.
Honestly, we repeat nearly the same routine every time we go (we are creatures of habit).
This is what it looks like:
We drive to Wakefield.
We go to the Wakefield Bakery (it's a must! More on that later)
We walk around the train area, picnic with our baked treat.
We play outside for a bit.
We drive to Chelsea.
We go to La Cigale (more on that later!) to buy ice cream.
Eat and enjoy. 🙂
On really nice days, or when time allows we will also take a walk around Gatineau Park, where there is a circular trail and it's perfect.
There are a lot of shops and other restaurants in Wakefield but we don't usually spend time shopping.  It would however be a wonderful date location, or girls locale.
Wakefield is also home to the the Wakefield Mill Inn and Spa. We've stayed there (years ago!) and loved the room and food.
Nearby is also a red covered bridge that is really neat to walk along and take pictures at.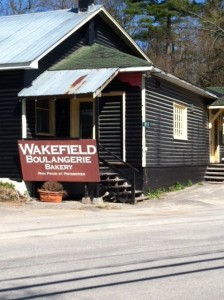 If you know me personally, you may know that I have a thing for baked goods. When I'm not actually making them, I want to go find and buy some.
I've been like this  since I was a teen.  Baked goods = happy times.
Wakefield Bakery may be my favourite.  The smell, the options – it's all perfect.  My go-to buys are the date squares, the millionaire bars (caramel, chocolate, shortbread oh my!), and the raisin buns.  The donuts are pretty wonderful (and remind me of my grandmother's) and the sandwiches, if you get there at just the right time for lunch are amazing.
Who knew ice cream could taste this good?  Made right there in Chelsea, flavours include the classics like chocolate (my daughter's favourite) and maple walnut, but what happens when you try the apple pie ice cream, lemon caisses cheese cake or my favourite raspberry white chocolate? Your taste buds sing.
There are plenty of chairs and lots of parking, plus it's right across the street from Gatineau Park. After a long walk, everyone deserves a treat I think.
Looking for something to do this weekend? I would highly recommend Wakefield and Chelsea!