It's Canada Day!!  This year we are celebrating Canada's 145th birthday.  I love living here.  I love raising my children here.
When I told my son it was Canada's birthday, he told me the gift we should give it is care.  I thought that was pretty insightful for a 5 year old (and true).
He also felt we should have cake.
We were really lucky to be invited by the Renaissance Toronto to visit for a couple of nights this weekend (more on our trip in future posts!)  We made it a fun, family event by taking in some ball games and walking around Toronto.  We had a great time.  I feel fortunate to be able to visit the amazing places this country has to offer. Maybe it's one reason we haven't travelled much outside of Canada yet?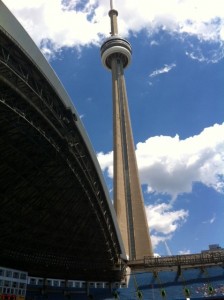 Happy Canada Day!  How did you spend the day?