We did it! We packed 4 of us into one suitcase.  I feel victorious!! Although I wish I could take the credit.
I packed for the kids and I first.  Here's how I packed 😉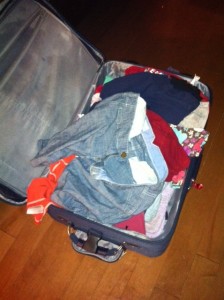 Then, Andy packed his stuff, plus all of ours and fit it into the suitcase like this.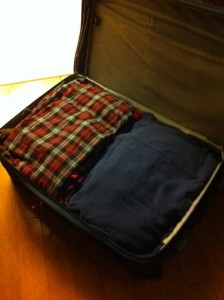 Um. That's pretty good, isn't it?
So what's in the suitcase?  Each of us have about 5 t-shirts, 3 or 4 shorts, capris, 2 pjs each, my daughter has some dresses, there are bathing suits, underwear and socks and I have a sweater and jeans.  Each of us are bringing sweaters outside of the suitcase as well.  So we travelled with about 4 days worth of clothes each.  Plus there was room to fit toiletries, my hair dryer and sandals.  NICE!
How did he do it? He doesn't roll.  He lays everything flat (every piece of clothing) on top of each other, and then folds the entire pile as needed to fit in the suitcase then lifts flat piles into the suitcase.  Bonus: few wrinkles!
Here are a few tips for packing the suitcase when travelling with the kids:
–If you are stopping overnight somewhere on the way to your destination (like we are), pack pyjamas and clothes for the following day on top of everything else – no point rooting for everything and making a mess in the suitcase!
–Depending on the length of your travel, bring a large reusable bag to stuff dirty clothes into.
–Kids may spill something or have accidents when in the vehicle.  Bring or pack extra clothes that are easy to access at any time.
–Have laundry on site where you are going? Don't bring clothes for every day, bring enough to get you to a laundry day only!
Have any tips when packing your suitcase?
—>Stay tuned – I'm a master snack packer for road trips and will share my secrets with you in another blog post!