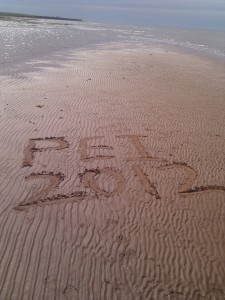 I'd love to know where the week went.  Well, I *know* where it went – we were beaching it in PEI, and eating well, and relaxing, and checking out lighthouses and having a lot of fun as a family.  But still, it went by so quickly.
We are currently packing to hit the road for Ottawa tomorrow.  This will be our last night watching the sun set from the deck over the ocean with the Confederation Bridge in the background.  It was our last day to splash on the beach. To play at the cottage.  To go to COWS Ice Cream and indulge. To eat lobster (which, for the record, I was successful with Operation Eat-Lobster-Everyday! Tonight, simple steamed whole lobster and butter).
I will miss the temperatures, the salty air, the refreshing breeze and the friendliness every where we went.  I will certainly miss the food and the time I got to spend with my family.
Of course I will be happy to get home, but I will long for these days with the four of us enjoying nature, and each other's company.  We ate well.  We played hard.  And we laughed often.
Thank you Prince Edward Island for your hospitality once again.  We can't wait for our return.