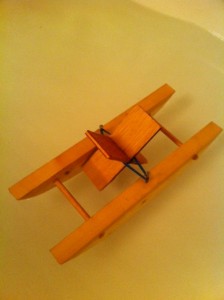 At the family reunion (my husband's family) we were at on the weekend, one of the dad's brought materials for the kids to build some cool things.  They made a bird house and this paddle boat.
Today, the kids got a chance to test out the boats in the tub.  I can say they move well!
What was most impressive was that they built the boats themselves (with assistance of course) but seeing them work with the hammer, figuring out where the pieces go and then the pride on their faces when they were done was priceless.
Thank goodness for a very fun cousin 😉