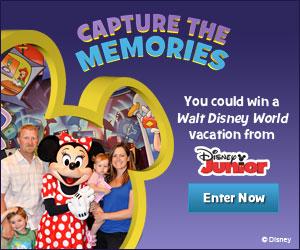 Let's pretend for a moment that you and your family won a trip to Walt Disney World (Me: OMG OMG OMG What if I won a trip to Disney World? OMG I would freak).  Sorry.  Was distracted for a minute. Let's keep pretending.
Now let's pretend as part of that $10,000 prize package you not only got transportation to and from Disney, but also accommodations and of course park passes.  AND in addition, there were other perks like a pirate or princess make over (for your little one) and a chance to dine with a Disney character.  We're still pretending, but let's pretend you win all of this.  All of it and more.  Which character would your children want to dine with?
How about we stop pretending for a second and I tell you how exactly you have a chance to win this for real.  FOR REAL.
Head over to the Disney Junior website and check out the contest details and enter.  You have until August 31, 2012 to enter (and can do so once a day!).  Looking for bonus entries? Watch Disney Junior for magic words that you can enter online for additional chances to win.
Disney is on our short-term trip planning list. I am thinking maybe 2 years.  I've been twice in my life – once as an 11 year old and once as a teenager and both times were amazing.  I can't wait to take my kids and see the magically looks on their faces when we watch the fireworks, or the parades, or go on the rides or meet their favourite characters.  I can't wait.
But now, someone has the chance to win this fabulous prize.  Go on, enter.  Pretend and imagine for a little while longer too.  Because if there is one thing that Disney is fantastic at, it's helping us to remember what it's like to have an imagination and be kids again.
Good luck!!
Disclosure:  I'm part of the Disney Junior Mom program and I receive special perks as part of my affiliation with this group. The opinions on this blog are my own.