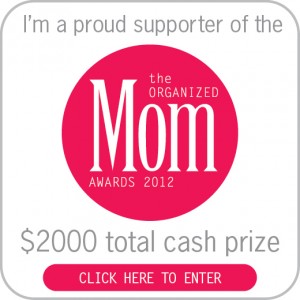 I wouldn't say that I am a really organized person, but motherhood seems to suit my organizational type well.  If there's one thing I've been pretty good at, it's being organized with the kids.
When we head out the door, I feel prepared.  I travel well with the kids and am good at keeping things timed.
I am definitely not organized with anything school related or with their deadlines.  Isn't that form that I had to sign due this week? Ohhhh, it should have been in last week? Right. That's me.
If you've been following the Organized Mom Awards, you'll see some great examples of staying organized as a mom.  The voting process is now open, and one of these lucky moms has a chance to win $1000 for themselves, plus another $1000 for a charity of their choice.
Voting has begun.  You can head over to the Facebook page to learn more about how you can vote – and to read tips from other moms that will help you stay organized!  For more great tips, follow the Organized Mom Awards on Twitter @orgmomawards and visit the website for even more tips, including my post about being organized when leaving the house with the kids. 
Stuck On You labels and personalized gifts is one of the partners for the Organized Mom Awards and they have generously offered a couple of prize packs for my readers!  That's pretty great timing with school just around the corner!!
ENTER TO WIN
You can win one of two $50 vouchers.  To enter: Simply comment below and tell me which of the Stuck On You personalized products (there are many! Labels, water bottles, stationary and more!) you would buy with your gift certificate.
BONUS
Keep your eye on this blog because by the end of the week you'll have another chance to win one of two $50 vouchers!!
PLUS! FREE SHIPPING
See something you like and don't know if you will win the giveaway? Place your order and get free shipping with the code MOMSENSESHIP (valid until August 21, 2012)
Good luck!
Giveaway is open to Canadian residents (excluding Quebec). Voucher expires December 31, 2012.  Contest  closes Sunday, August 19 at 9 pm EST.