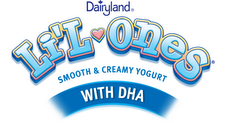 My son is a huge yogurt fan.  He has been ever since he was little.  My daughter isn't sold as easily on it, but my son will eat it with granola and frozen blueberries for a bedtime snack almost every night.
While we try to buy the plain yogurt with no sugar added, he doesn't always like the kinds we get.  So we do end up buying yogurt that is sweetened and while we try to eat healthy, these are seen as a 'treat snack'.  I'm not fooling myself about sweetened yogurt, but honestly, when I'm looking for a quick school snack I do turn to these.

That's one reason why I like to buy Li'l Ones Yogurt.  It is sweetened with fruit juice and free of added gelatin, artificial sweeteners and colours.
The other reason I buy it? There are no chunks.  And while Li'l Ones tell customers it's great to prevent choking (true), in our house a no-chunk yogurt means no freak out.  Seriously. Want to see my son lose his mind? Add a chunk of fruit to his yogurt.
Li'l Ones Yogurt is made with whole milk (something that wasn't always easy to find when my guy was little!) and is fortified with Vitamin D and Omega 3 fatty acid and other good stuff. Plus, I like eating it (peach and vanilla are my favourites) so that's a bonus.
Follow Li'l Ones on Facebook!
You can WIN!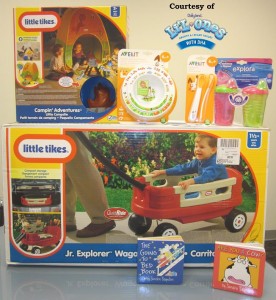 Our friends at Li'l Ones are giving one of my lucky Bit of Momsense readers a pretty awesome gift pack (items pictured above) for new moms/moms with little ones! (oooh see what I did there?).
To Win:
Simply enter below and tell me what flavour of Li'l Ones is your favourite, or you think you'd like best.
Giveaway is open to Canadian residents, excluding Quebec. One entry per person.  Giveaway ends Thursday, September 6, 2012 at 9 pm EST.  
Disclosure: This is a giveaway I'm doing mostly because I love the product and love the thought of a reader winning a cool prize! I received a sample of Li'l Ones to try,although I was already very familiar with it's tastiness!