I don't own Cinderella on DVD.  I feel this is a parenting/Disney fan fail somehow.  I think I once had it on VHS (now somewhere in a bin in the closet), but Cinderella is one that we should have in the rotation.  The good news is, it's available on Blu-Ray on October 2!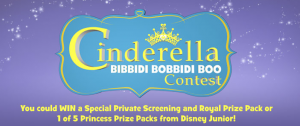 Disney Junior has a Cinderella contest happening right now for your little Disney fans. You can win a prize pack that includes a private screening of the movie and prizes including the Blu-Ray.  The Bibbiidi Bobbidi Do Contest runs until October 13.
Meanwhile, you may have seen the new show Justin Time – it's a cute, imaginary based  program that has Justin travelling to different places and ( and times) and learning some pretty fun stuff. My kids seemed to really enjoy it and I like that there's some history involved (did you know I majored in history in University?) 😉 Sure, Justin Time isn't University history but I still like that they ask questions about the different scenes they see.

Also, set the PVRs on Friday, September 21! A new Jake and The Neverland Pirates extended episode is playing!! (And I have Jake to thank for the time to write this post 🙂
Disclosure: This post is brought to you by our friends at Mom Central as a Disney Junior Mom, but my opinions, comments and realization that I should buy Cinderella are all my own 😉