I am really excited about my new gig with Help! We've Got Kids, scouring events for families in Ottawa to add to the Help! We've Got Kids events newsletter.  What I especially love (although it may seem selfish) is that in researching the newsletter entries, I discover a plethora of fun events that my own family might enjoy.
When I came across the Museum of Civilization's workshop called 'So you want to be a film maker?' that is taking place on Sunday, September 30, what caught my eye was the mention that they will be using iPads and a National Film Board app to create stop motion mini-movies.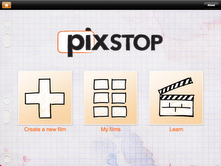 Since my children (my son in particular) are all about creative play and virtually directing and acting out scenes (while dressed in costumes, or not) I knew I wanted to check it out.
PixStop is a free app for the iPad by the National Film Board. You take pictures of your objects, moving them slightly to change their position and then the film  plays each picture at 12 frames per second.
I did a mini test last night and this is seriously going to make my son go crazy when he sees it.  I can imagine all of the fun applications for it and the kinds of adventures his toys will now be able to go on!
You can name the movie, add music and just get creative.
I'll post some movies once we get them made, I just couldn't help but share this with you right away!!