To love a couch: Living room updates!
My new couch has been here a few weeks and I am completely delinquent in writing so I haven't shared many pictures or details with you.
Based on the design plans that Meredith had done for us, one of the recommendations she had (after we finally decided to put our brown sectional downstairs and completely start over with furniture upstairs) was a pretty new couch.  She designed and recommended a custom one.
At first we thought exactly what you were thinking – that there is no way a custom designed couch that is made by her furniture people could be budget friendly.  But guess what? It was.  It isn't the most inexpensive couch we could have purchased, but if we went to most furniture stores around here (including The Bay) we would have paid close to this (if not the same or more).
The process was pretty basic – she had an image 'look' that she sent and then mailed us a piece of fabric. After I spilled coffee and V8 juice on the fabric (in an attempt to see how spill friendly it was) and it passed, we went ahead and ordered it.
We had the specs laid out – single cushion, back cushions, bolsters, three throw pillows, nailhead trim on the bottom – and that was that.
There ended up being a delay – 6 weeks became 12 – but as with anything being made from scratch, this can happen. I stressed a bit then new that it would be worth the wait. The kids were getting a little too used to the empty space, but then the couch came.
And angels sang.
The fabric is in a grey with a light beige undertone.  The feet are espresso in colour. The single cushion has tufting and buttons. The nailhead trim makes me drool.  The curve of the arm is stunning.  We were mostly surprised that it was actually wider than we expected – not that we wanted something smaller, we just figured for the price the depth of this couch is astounding.  Plus, it's very tall.  It is a statement piece in our room.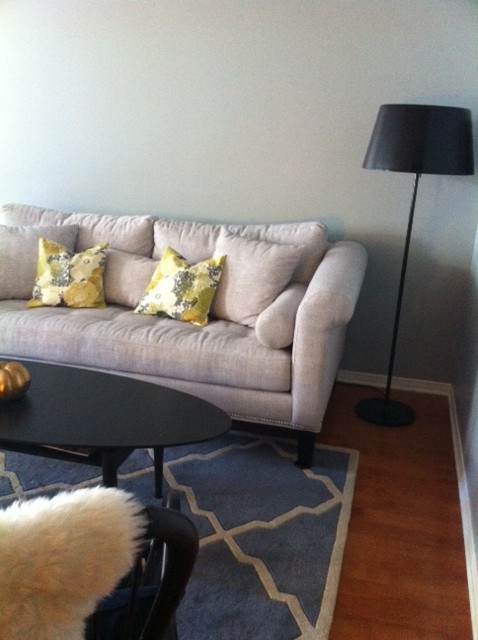 We joke that it's like a twin bed.  It comfortably sits 3 adults.
I love it.  It's become a statement piece in our room, our 'splurge' piece that wasn't as much of a splurge as we'd imagined, and it's super comfortable.  I mean, really really comfortable.  We've had it for a month and the consensus is that it's pretty awesome.
Eventually I'll stop spot checking the kids' hands every time they enter the room

More to come as I get caught up about our space – new dining room table and chairs are about to be put to the test with Thanksgiving coming up!
Recommended