The Ghost
Since high school, I have decorated and dressed up for Halloween.  Even in my early university days I still dressed up.  It wasn't until just before kids that I stopped dressing up – but I never  stopped decorating.
Even before I had children, I carved my own pumpkins and always wanted to decorate and hand out candy.
This ghost remains nameless, but I have had him for over 15 years.  I bought him at Zellers one year and he has travelled with me from apartment to apartment to house.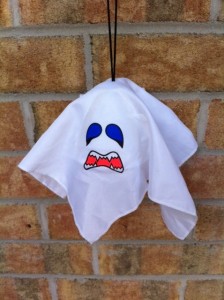 He lights up, shakes and makes scary 'oooohhhooohhhhh' sounds.  Also, he's set off based on motion so he hangs motionless until someone walks near.  This was perfect for trick or treaters

I put him out this year again and while he lights up, he's not making a ghost sound any more, just a motor noise. I think he finally has died (again?).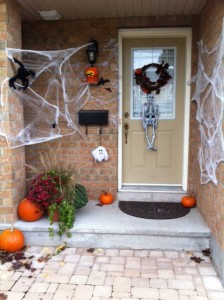 *sigh* I don't want to let my ghost go.  It's one of those traditions, those visual memories that remind me of Halloween and that makes me smile.
I've decided to leave him hanging up and hope that he somehow comes back to life (would that make him a zombie ghost?).
No matter the case, I don't want him going anywhere.
Do you have decorations for this time of year that you like bringing out year after year?
Recommended