Hosting a Baby Shower – Gift buying tips and special thanks to Fisher Price
A couple of weeks ago I hosted my younger sister's baby shower.  She's having her first (a little girl!) in November.
I hosted her wedding shower a couple of years ago, so the guest list read almost the same.
We were having a light lunch, so I outsourced the desserts to a local baker in Orleans who I had seen at the Cumberland Market. Tada Desserts has cookies, squares and peanut butter balls that are amazing.  I got an assortment of all of that and everybody in attendance agreed it was incredible.
The grandmothers-to-be both brought food to help and I made wraps and snacks as well.  I set up a drink station and everything seemed to be a great hit (I should do a post with some easy entertaining tips soon!).
Meanwhile, my sister was spoiled.  Not only by her guests but by a generous blog sponsor as well. Fisher Price sent me gifts for the new mom and dad to be and while I knew Fisher Price was generous, I never could have imagined she would have been this spoiled.
A swing, jumperoo, play mat, aquarium, diaper bag and onesies (with an Owl print on them! Matching both her nursery decor and the shower theme. A wonderful coincidence!).
She received:
The My Little Snugabunny Cradle n Swing
Discover n' Grow Kick & Play Piano
Ocean Wonders Aquarium with Remote Control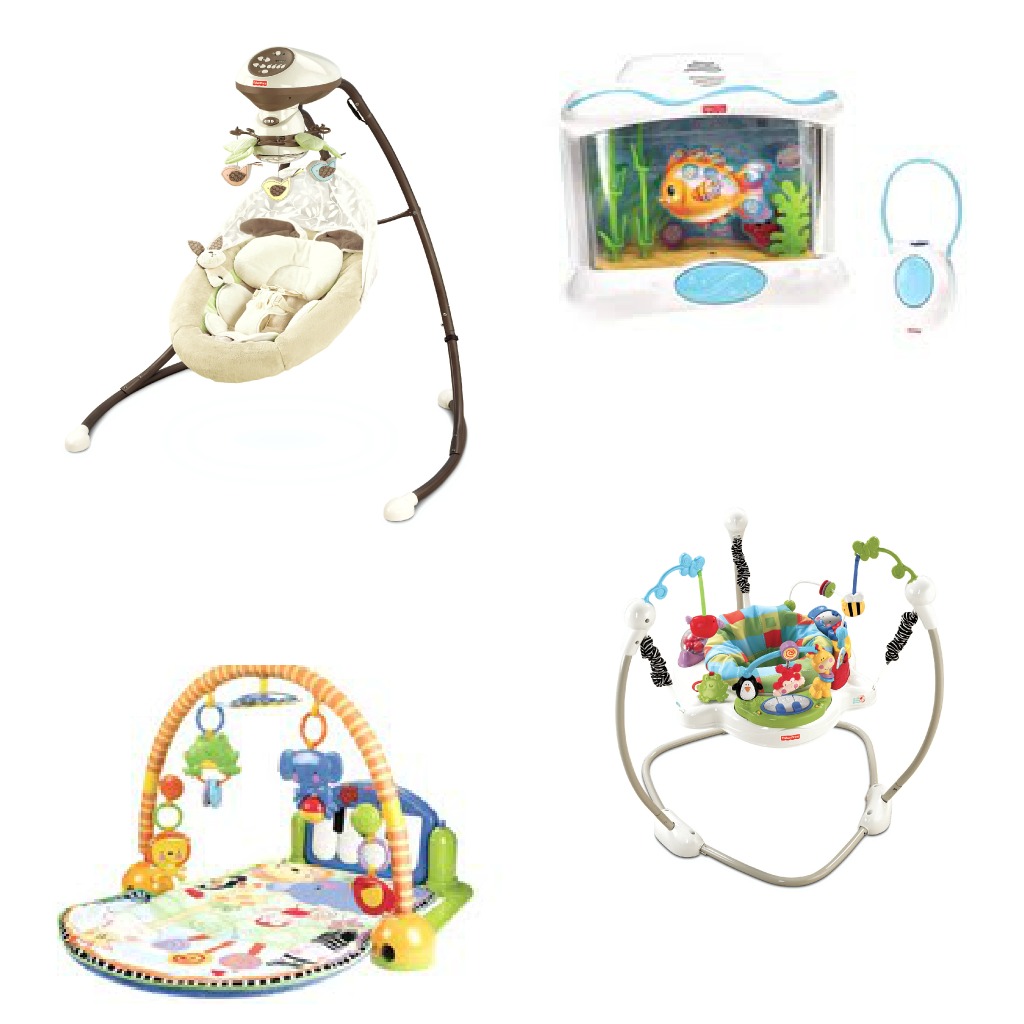 As we looked at the gifts, I couldn't help but remember when I received many of these same items at my shower.  I had the aquarium (which my son in particular liked to watch) and the swing (at the time I had the Oceans Wonder swing.  My son *needed* to be in constant motion and he loved sleeping in the swing while the ocean waves sound was on).
What I love about many of these items is that a) I used them a lot and they lasted through both kids b) they make wonderful shower presents!  A group of people can go together on an item, or you can gift it to parents-to-be and will be ensured a very happy reaction!
Here are my tips when buying gifts for a baby shower:
Sentiment goes a long way: A thoughtful gift with special meaning will hold a special place in the parents-to-be hearts for a long time. Put some thought into the gift and they won't forget it.
Practicality reigns supreme: If they've registered, following the registry is likely a good idea.  Sure, you may feel that the monitor from Brand A is the same a s Brand B, but if they prefer Brand B there may be a reason.
Group gifts: This is where gifts from Fisher Price would be perfect.  Join your resources to get a gift that they want and may need but is often costly for a couple themselves.
Something tried and true: Some of my favourite gifts when I had the kids were items that other moms had already used/tried and just loved.  By sharing your favourite items, the new parents will already know why that product is something that's recommended – because you've told them why.
My sister recently sent me these pictures to share – her and her husband set up the swing and the jumperroo!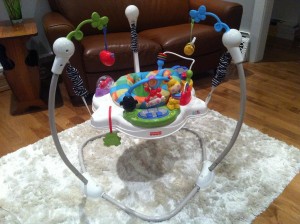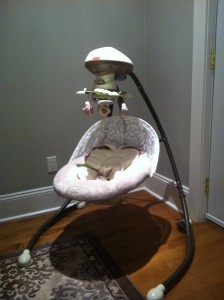 disclosure: this post is in thanks to Fisher Price who generously gave my sister some really amazing, and needed gifts for her first baby. All opinions are my own.  A huge thanks to Fisher Price for continuing to create some pretty fantastic products for parents.
Recommended