Recipe: Slow Cooker Stew
The weather is supposed to be damp, wet and cold this week so there's no better time than to make a stew!
This is almost the exact recipe that my grandmother and mother made growing up and it still brings me back to my child hood.  It's best served with fresh bread and butter, or better yet, biscuits.
Enjoy!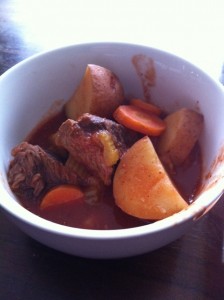 Slow Cooker Beef Stew: Ingredients
1 package beef stew meat
8 cups of tomato juice, tomato sauce or V8 juice (the latter is my preference)
6 red potatoes, washed, chopped
2 carrots, chopped
1/2 onion, chopped
1 celery stalk, chopped
1 clove of garlic, minced
2 tbsp tapioca
pepper
Directions:
Combine all ingredients into slow cooker.
Cook on low for 6-8 hours, or high 4-5 (or cook until meat is cooked through and vegetables are tender).
Can be frozen for future meals too.
originally posted on www.bitoffoodsense.com 
Recommended