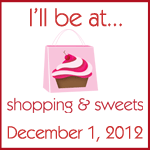 The third annual Shopping & Sweets sale is taking place on December 1 from 11 until 3 pm at Shenkman Arts Centre.
Gwen and I are happy to once again put on the show and raise money for two local charities, the Christmas Exchange and the Orleans Cumberland Community Resource Centre.
Over 16 vendors will be on site selling their products or promoting their services.  Cupcakes this year will be provided by Vanilla Gourmet Cupcakes based in Orleans. (I've had them,  they are amazing!!).
A huge thank you once again to the main sponsor The Laurin Team Mortgages.  Gemma's generosity each year helps us pay for the venue and make sure more money is able to be donated to the charities!
Here are ten reasons we think you should attend Shopping & Sweets!
Proceeds from cupcake sales and table sales will ALL be donated to the charities.  Gwen and I put in our time and donate the money because we feel it's a great way to give back to our community during the holidays – a time of year both of us love and feel very blessed in.
I hope you can visit Shenkman Arts Centre and attend the event on December 1!  All shoppers can fill out a ballot for a chance to win the fantastic family basket we have as a door prize!!
That same weekend, Shenkman also has their annual Baz'Art event taking place that has many artisans selling beautiful wares.
Here's the clip from CTV Ottawa Morning Live yesterday where Doreen from Vanilla Gourmet Cupcakes and myself went on to talk about the event.
Thanks to everyone, our sponsors, the vendors and shoppers for their ongoing support!!