Disney Junior is has a sneak peek for a brand new show on Saturday, November 24 at 7 pm.  The series will launch in January 2013.  Sofia The First is the story of a little girl whose mom marries a King.  Sofia then becomes a princess and has to learn what that means, all while trying to adjust to her new family (including her new dad and two step-siblings).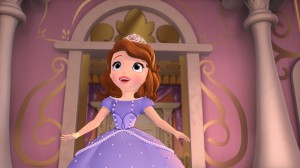 We received a copy of the Sofia The First book from Disney Junior as an introduction into the show.  The story focuses on Sofia's enthusiasm for her new life, and her concerns about fitting in.  There is some tension with her new sister at first, but all is resolved by the end.
I really liked that this is about a blended family, that the step-siblings, although had some initial conflict, worked things out, and that the princess school was teaching her about kindness and important values.  Plus, the characters seemed very cute and fun.
When I asked my daughter what she liked best about the book, she said 'Cinderella!'. That's because Cinderella makes an appearance (and she will in the show as well!).  My son also really liked the book and is anxious to watch the show "can you tape it mom? I'll be in bed when it's on).
We all can't wait to watch this new show, and the book is a keeper!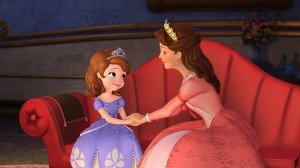 Want to win your own copy? You can!! Disney Junior has a contest right now where you can win 1 of 150 Storybook Prize packs that include the book and more!! Enter the Sofia The First contest!
Will you be watching Sofia The First?
Disclosure:  I'm part of the Disney Junior Mom program and I receive special perks as part of my affiliation with this group. The opinions on this blog are my own."