It's become an annual tradition that the kids love doing (and so do I!) but the 25 Days of Christmas activity advent is one of my favourites.  An original idea I totally stole without remorse borrowed from Andrea of A Peek Inside the Fishbowl, we have now adopted this one with gusto.
Here's our list for this year, I've updated it a bit.  We tend not to put specific activities that we want to do because we need the flexibility in case plans change, weather and so on.  But I have craft supplies at the ready and do look at the dates to make sure the activity falls on a weekend/school day as needed.
I am already behind which is sad but tomorrow we'll be a bit more back to normal around here and will get into it fully!
This year, I put up a cloth tree and envelopes. I should have used small decorations or better looking envelopes but frankly, I'm out of time! 😉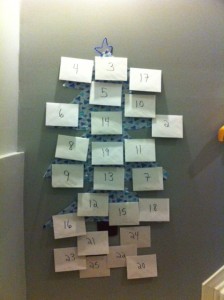 If you haven't done this yet, it's not too late to start!
25 Days of Christmas Activities 2012
1-      Watch a holiday movie
2-      Write a letter to Santa
3-      Make hot chocolate
4-      Sing Rudolph the Red nosed Reindeer
5-      Make paper snow flakes
6-      Decorate a Wreath!
7-      Shop for and donate to Toy Mountain
8-      Play Christmas hide and seek
9-      Play the wrapping paper game and find a surprise!
10-   Select 2 older toys to donate to charity
11-   Decorate a Christmas tree
12-   Sing Jingle Bells!
13-   Dessert for supper, supper for dessert!
14-   Play guess the ornament on the Christmas tree
15-   Look at Christmas lights in the neighbourhood
16-   Make a paper chain garland
17-   Bring snow in from outside to play. Put it in the freezer. Read the book 'Snow'
18-   Sing Frosty the Snowman
19-   Bake Christmas cookies
20-   Make felt ornaments for gifts
21-   Special dinner out to celebrate Christmas break!
22-   Christmas PJ Day!! Stay in pjs, watch Christmas shows and cuddle
23-   Enjoy hot chocolate
24-   Open one Christmas present
25-   It's Christmas day! Remember your family loves you and we wish you the best Christmas ever