Disney Junior Christmas Specials and Online Fun
The television and PVR is in full gear now with holiday shows. Have you been watching? My problem is that I always intend to watch, miss them and forget to PVR – I still find having PVR is new and I don't use it enough yet!!
We sat as a family last Saturday, December 1, for our first #25daysofChristmas advent activity – it was to watch a Christmas movie. So we watched Mickey's Once Upon a Christmas. Parents, you may remember these clips from when we were younger.  But I would be lying if I said I didn't tear up when Huey, Dewey and Louie didn't find what makes Christmas special in their hearts and learned to enjoy the moment.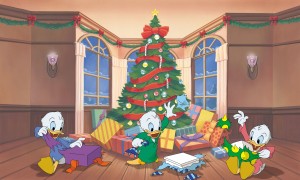 Today was the airing of the newer clips together in Mickey's Twice Upon a Christmas. PVR fail, I missed it this morning so I found that it's on again just before 4 pm tomorrow!
Meanwhile, my daughter has discovered the new holiday games on the website (you can build e-cards!) and they get two thumbs up from her. This one was probably her favourite, because it required me to go out and buy candy canes to finish the image.  Her and her brother coloured this and are pretty proud.  I think it's a very cute idea (and easy for you to set up!)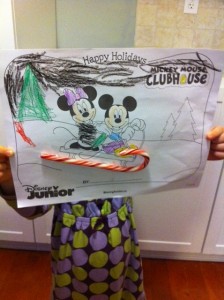 Also, The Santa Buddies movie will be on next Saturday, December 15 at 11 am.  Talking puppies save Christmas!

Have you been catching some of these holiday favourites? You'll start to see your regular favourites play some holiday episodes too – I've already seen Imagination Movers, Handy Manny and others have some on (and look On Demand if you have it! Some of these episodes often end up there for frequent viewing

Disclosure:  I'm part of the Disney Junior Mom program and I receive special perks as part of my affiliation with this group. The opinions on this blog are my own. I want to watch the holiday shows because they remind me of when I was a kid.  I will never admit to enjoying the talking dog movies even though they are cute

Recommended