It had been a long time since I went into The Baby's Room section at a Sears store.  As I wrote in a previous post, I was pleasantly surprised with their changes.  I have been ordering from Sears online the odd time and there is definitely one thing I always associate with Sears: The Wish Book.
As a child, this book was a big deal.  We would receive it well before Christmas and by the time the holidays came the pages were torn, worn and clearly looked at frequently.  We would circle ideas for ourselves, ask our parents to order items for our friends or siblings from us and get ideas for what we wanted to put on our Santa lists.
The tradition in this house continues.  While getting catalogues in the mail seems almost old fashioned now, with everything easily accessed online, there is still something special about finding The Sears Wish Book on our door steps.  My children now sit together on the couch browsing through their ideas and wishes.  Currently they are determined that I should be getting daddy the mini Coke Fridge because it looks awesome, even though he doesn't drink pop.
Sears Canada has introduced a few ways to make shopping online easier.  I know, in speaking with many friends this year who live in rural areas or who are simply quite busy, that shopping online is the best way for them to get most of their holiday shopping done.
You can use the Toy Finder
Check out the Wish Book App
Or order online using the catalogue numbers or just regular surfing.
Here are TWO very important things to note: 
1) $10 off a purchase of $100 or more on regular priced toys. (Ends December 24)
Coupon code: 941 612 203

2) FREE shipping with a purchase of more than $75 until December 20th
Giveaway!
Sears Canada has generously given me a very cool toy to share with one lucky reader, plus in addition, I had the chance to pick 2 toys of my own.  I've decided to get two KREO building kits that are for ages 7-14 to donate to Toy Mountain in Ottawa.  In particular, Toy Mountain is currently needing gifts for older boys aged 10-12 so this is perfect!
Here's what YOU can win!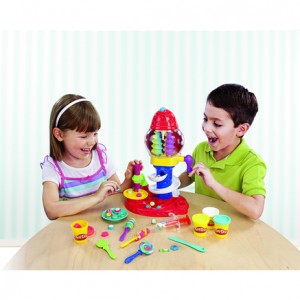 How to Win!
To win, simply comment below and tell me one thing on your child's wish list this year!
Good luck!
**Contest closes on December 14th at 9 pm EST.  Sorry! Change of time: 4 pm EST – Sears needs to get this in the mail! 🙂 One entry per person. Open to Canadian residents only. Winner can only win once from the various Sears Canada #thebabysroom blog contests.
Disclosure: I am part of the Sears Canada The Baby's RoomAmbassador program with Mom Central Canada and I receive special perks as part of my affiliation with this group. The opinions on this blog are my own