I just made this recipe again this weekend and for whatever reason it was perfect. I think it was the simple fact that on a cold, winter's day, my nanny's mac and cheese is exactly what I want sticking to my ribs (so to speak).
I've mixed it up with various cheeses before, including jalapeno for a spice and kick, but nothing beats simple cheddar.
Enjoy!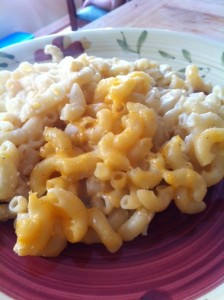 Ingredients
1 box elbow macaroni
2 tbsp Butter
2 tbsp flour
3 cups milk
1/2 tsp pepper
2 cups grated sharp cheese
Instructions
Cook the macaroni
Meanwhile, in a sauce pan melt the butter and add the flour, stirring until well blended and thick.
Add milk, about 1/2 a cup at a time. Whisk until thick. Continuing adding milk until all combined.
Add pepper.
Add cheese. Whisk well, and until thickening.
Drain pasta.
Combine cheese sauce over pasta. Add into casserole dish.
Grate additional cheese on top.
Bake at 400 degrees for 25 minutes.
Take out of the oven and let stand for 10 minutes.
originally posted on bitoffoodsense.com