It's no secret that I like to cook. And now that the kitchen is actually functional and pretty it's even more fun to cook in.  But while I do like cooking for Andy and I often, it's nice to also open our home and entertain once and a while.
I often host family gatherings that surround food, or have my parents or other couples over for elaborate dinners.  These are always done on the weekends when Andy is home to keep the kids busy (and help clean!) and we spend significant time planning a menu and shopping.
Last night I had my parents for dinner and prepared the following (I've linked to the recipes I used, if no links it's because I just made it up 😉 :
Bacon Wrapped Pork tenderloin served with bacon whiskey jam
Pan Roasted Sweet Potatoes and Leeks
Steamed Broccoli and Parmesaen
Dill Potato Bread (from local Art-Is-In Bakery)
Mini Berry Crumble with Lemon Lime Frozen Yogurt (did I mention I got an ice cream maker for Christmas?)
 I have to say the menu was a huge success and while I can't help with the actual preparation of these items (except to say that they were easy to make!) I can give you my tips to entertain and host a fancy dinner without spending your whole visit in the kitchen.
Tip 1: Prepare as much as you can ahead of time or select easy courses
I did the bacon whiskey jam earlier in the day and had the pork almost ready to go in the oven before my parents got here.  The lemon lime frozen yogurt was also done ahead.  I also chose the dessert specifically because I knew it had a quick prep and a quick bake time.
Tip 2: Delegate! Pre buy where it makes sense
I didn't make the bread, but buying a local kind introduces the group to something new and surprising but without me doing the work.  The same could be said of the dessert.  While I made it last night, I could have easily gone to the bakery for a treat.  There's nothing wrong with that!
Tip 3: Presentation counts
Ever watch cooking shows and see how the food is presented?  Or read a magazine and think it looks so amazing? I swear to you that almost everything looks better when served on the right dish. My recommendation: Simple white dishes.  They are a good investment.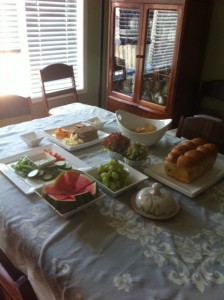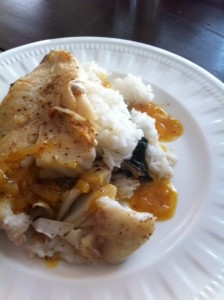 Tip 4: Know Your Menu, Have the Ingredients
I usually don't mind trying new recipes for Andy and I, and even my parents, but if someone is coming over for the first time, chances are it's not when I'm going to try something new and difficult. I pull out my go-to crowd pleasing recipes.  Be sure to plan your menu out then head to the grocery store to ensure you pick everything up and don't have to make any last minute panicked substitutions (although, I'm notorious for this!)
Tip 5: Fancy Doesn't Have to Mean Expensive
That entire menu I wrote above? I estimate that to feed 4 adults and 2 children it cost me about $30.  Why? Because I planned the menu based on my grocery store sales.  I almost did a different protein but when I saw pork tenderloin on sale, I quickly switched.
Tip 6: Do as little on the stove top as possible
The meat and the potatoes were both roasted, which means I just had to pop them in and monitor.  The broccoli was done on the stove but that was the only thing and it was easy. I try to maintain only one item on the stove top for ease, and so I can sit in the living room with everyone else and relax.
Tip 7: At the end of the day, it's the company, not the food
Really, if something gets a little darker than planned or you forget to put out the salad, it still doesn't matter. The point is to come together and visit and enjoy each others company.
Do you like to host meals at home? What are some of your hesitations about doing so? I'll try to help!