Is Minecraft huge in your house? It is HUGE in this house. We are immersed in creepers, zombies and Steve's around here.  The discovery that the kids could play in the same 'game' while on separate i-things has made for quite the interesting sibling bonding time.
As part of our March Break activities I dedicated Monday to be Minecraft Monday. I let them play, then we did some fun activities that were Minecraft themed.
These were simple crafts:
With some black pipe cleaners and construction paper we made spiders, my son used envelopes to show off his creeper drawing talents and we stuffed paper bags and drew a Steve face for a Steve puppet.
In addition, thanks to a friend who gave me the idea, we cut up Rice Krispie Squares and used tooth picks to build Minecraft homes.
It was a lot of fun, and required no digging!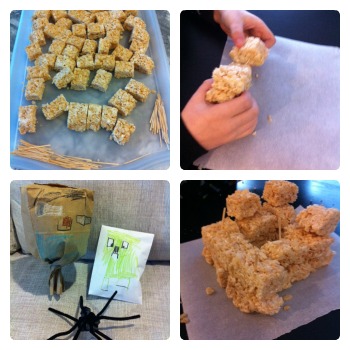 NOTE: I suspect there will be more random activities. I'll update this post when we have some new ones to share!