This week I have a couple of Good Eats for you to drool over as we go into Easter Weekend. I'm having a few family members over for supper and I'm going to try something less traditional with my menu planning but some yummy cooking.  Still working it out.
I love gathering new recipes so here's a couple for you to try.  Meanwhile, my conversations out loud while I'm cooking must be rubbing off, because my son demonstrated a 'cooking show' yesterday where he wrote out a recipe for mushroom strawberry cookies (EWW) and prepared them with instructions in front of us.  Love it. Although I don't know that I would eat those cookies.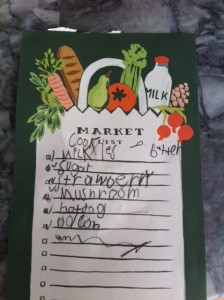 Enjoy these recipes from Foodieprints for Korean Inspired Pork and Potato Soup and the Ottawa Valley Moms' recipe for Ham and Cheese Brunch Squares.