You  may have noticed  a new button on my side bar. It's the Gay Lea Ambassador button and I'm excited to be promoting Gay Lea products to you thanks to Mom Central.
The thing is, I've written about butter before.  Dedicated an entire post to it. Because I love butter. I am a butter pusher.  Everything is better with butter.
One of my favourite snacks that I used to make when I was a kid (and still do) is buttered toast with cinnamon and brown sugar.  Years ago I had a lengthy Twitter conversation with others who love the same treat.  It's so simple! So tasty! But cinnamon and sugar is a pretty classic combination. On French toast, baked in a bread, cinnamon rolls – the list goes on.
If you are a fan of the combination like I am, you may especially enjoy the new Gay Lea Cinnamon & Brown Sugar spreadable butter! Ohhh you read that right. Now I know what you're thinking 'can't I just mix sugar and cinnamon and butter and make it myself'.  You can.  But this ready-to-go butter is a treat for your fridge that you'll appreciate having on hand.  It's there for you when you need a bedtime snack of toast, or on top of your warm bagel in the morning, or for your baking.  I'm also envisioning it set on the table at brunch or for entertaining.
Or you can pretend that Mrs. Patmore (Downton Abbey!!) has prepared this just for you!
I have to say, it's super yummy!
I had to give this product a try once I got my hands on it because the possibilities for baking are endless.  So I whipped up a cinnamon almond shortbread cookie.
And yes, these are as good as they sound. Usually my shortbread recipes call for sugar, but because of the sugar in the butter, I omitted it and the results were a less sweet, but still wonderful small bite.  This is the cookie you eat with a hot cup of tea or coffee and don't feel too guilty about.
Stay tuned after the recipe for your chance to win the Cinnamon & Brown Sugar Butter for a Year!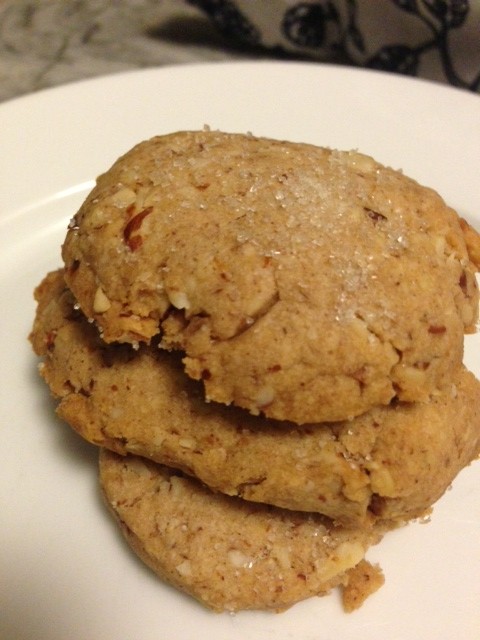 Cinnamon Almond Shortbread Cookie
Ingredients:
1/2 cup almonds
1/2 cup flour
1/4 cup Gay Lea Cinnamon & Sugar Spreadable Butter
1 tsp sugar for sprinkling
Directions:
In a mini food processor, chop the almonds and flour at the same time (the almonds are oily, so the flour helps!).
Once the almonds are in small bits and well mixed with the flour, add the butter.
Mix well.
Remove from food processor and lay out on plastic wrap. Roll and pinch into a small tube shape.
Set in refrigerator for at least half and hour.
Slice into small cookies.  If the mixture is still crumbly, just flatten in your palms. Sprinkle each with a bit of sugar.
Place on a cookie sheet lined with parchment paper.
Bake for 20 minutes at 350 degrees F.
Let cool. They will firm as they cool (you want them to be a little firmer!).
Enter to Win!
The lovely folks at Gay Lea have a pretty amazing giveaway. One lucky reader can win a supply of NEW Cinnamon & Brown Sugar Spreadable Butter for a year! The winner will receive 12 coupons for the product!  You can bake with it or enjoy this morning treat on your bagel, toast and more!
To win, comment below and tell me your favourite cinnamon/sugar combination – how is it best eaten? Not a fan of the flavour combo? Let me know your favourite breakfast instead!
Giveaway notes:
The Giveaway is open to Canadian residents, excluding Quebec. One entry per person. If you are entering other similar giveaways with Mom Central Gay Lea Ambassadors, you are only eligible to win once across the various giveaways.  Coupons will be mailed in approximately 4-6 weeks.  Draw will be held at random and closes on October 28, 2013 at 12 pm EST.  Winner will be notified via email and have 24 hours to respond to collect their prize. 
Disclosure: I am part of the Gay Lea Blogger Campaign with Mom Central Canada and I receive compensation and special perks as part of my affiliation with this group. The opinions on this blog are my own.  Because no one needs to force me to tell you that Butter is awesome.  😉