I've been pleased to have Saunders Farm as an advertiser this month but even happier to finally have a chance to get there with the kids. Last weekend's plans changed thanks to illnesses, but this weekend we were determined to get to Saunders Farm for some fantastic Fall fun – and pre-Halloween shenanigans.
I've been to Saunders Farm before, but my kids hadn't.  Our afternoon was spent following them around from activity to activity and watching their smiles.  Although the Barn of Terror ended up not being for them (we started…then stopped – it's still a bit spooky for my kiddos!) the outdoor fun is what kept them wanting more.
Saunders Farm has something for everyone in the family and what I really love is that there are activities for kids of all ages.  The wee ones have plenty to do at the discovery zones along the way, plus the pumpkin wagon ride and the older kids (including teens) can take part in the scary barns, spooky wagon ride, jumping pillows (my kids' favourites!) and more.
There are many mazes – some for little ones and some for adventurous families.  We did the Mile Maze and didn't duck under the hedges at all.  Eventually we found our way out (even though my daughter declared 'we're going in circles!' at one point).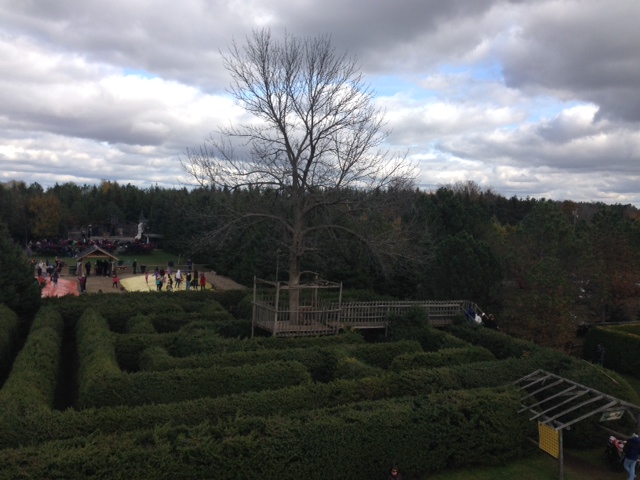 There are live stage shows, food vendors (we stopped along the way for a sweet Beavertail) and plenty of spots to picnic.
Our afternoon was so good that as we were leaving my son was already making plans for our visit next year. I told him that is an annual tradition I can get behind.
Saunders is still putting on their scary nighttime events for older families during the week of Halloween!
Tips when you go: Buy online to save some money, children under 2 are free (and if you baby wear, now is the time! Strollers are tricky to push in the muddy areas) and they are open rain or shine!