As we enter the holiday baking season, I am pulling out all of my go-to recipes. Between cookie exchanges, entertaining, gifting and just simply eating Christmas cookies, squares and treats, I am busy baking from about the last week of November right into Christmas.
I've written before about my shortbread recipe, a recipe that was passed down from my grandmother, to my mother and now to me.
It's a favourite each season.  One bite and I'm reminded of childhood Christmas celebrations and I feel very happy.
But once and a while it's nice to take a traditional recipe and add a twist.  In the spirit of the Gay Lea Shortbread Bliss contest that they are hosting on their Facebook page, I took the memories of shortbread and added a little something extra.  Keep reading for the recipe!
Details on Shortbread Bliss
Interested in the Gay Lea Shortbread Bliss contest?  Head to their Facebook page and give it a like to start.
Once you've registered, you're entered to win a Kitchen Aid Stand Mixer each week, plus daily prizes of a cook book and the grand prize is a new kitchen! The contest runs until December 31, 2013 and full details are found on the Gay Lea Facebook Page.
Meanwhile, check out below the recipe to find out how you can win a cookbook or a Kitchen Aid Stand Mixer right on this blog, and with fellow Gay Lea Ambassadors!
Recipe: Chocolate Centred Shortbread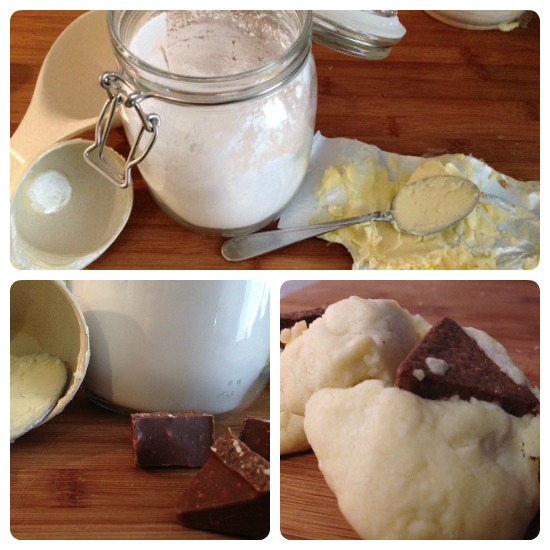 Years ago, when I was in my early 20s, I worked at a bank that was in the mall.  In the mall was a Timothy's Coffee shop which is where I'd pick up a coffee on my way to work, especially the early Saturday morning shifts.
During the holidays they had a giant shortbread cookie with a Toblerone triangle baked right in.  It was pure decadence, and along with my Hazelnut coffee (two sugars – I know, I know), it was a sweet way to kick off a busy morning.
Using my traditional shortbread recipe, I've duplicated the recipe.  I used the mini Toblerone bars, but you could also use any small piece of your favourite chocolate right in the centre.
Enjoy!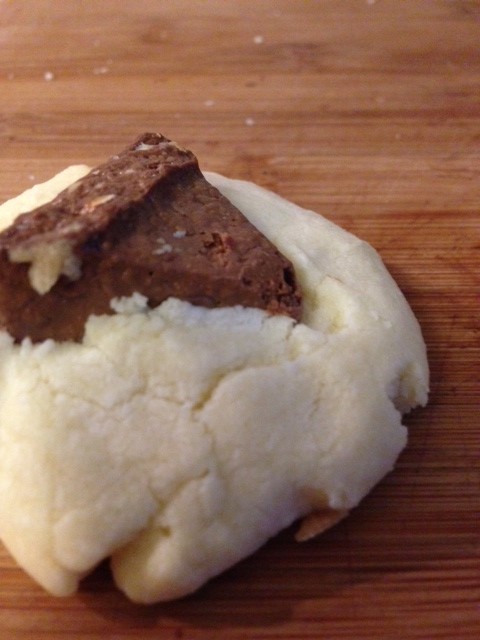 Ingredients:
1 1/2 cups flour
1 cup butter
1/2 cup corn starch
1/2 cup icing sugar
Directions:
Cream the butter and icing sugar.
Add the cornstarch, then flour (adding small amounts at a time makes it easier. If you have a mixer, this is all a breeze to combine).
Once everything is combined, roll dough on a piece of plastic wrap into the shape of a log.
Put in refrigerator to cool for 30 minutes.
Slice pieces of dough into 1/2 inch thick amounts.  Put a piece of chocolate and push the dough around the chocolate a little.
Put dough on cookie dough sheet lined with parchment.
Bake at 350 degrees for about 20-22 minutes, or until the bottoms and edges are beginning to brown.
_____________________
*GIVEAWAY CLOSED*
Giveaway!
Enter to win via the Rafflecopter Giveaway that I'm hosting along with fellow Gay Lea Ambassadors!
The entry will give you a chance to win the grand prize (awarded to one winner across all the blogs) for a Kitchen Aid Stand Mixer! Plus, enter on this blog to win a Gay Lea Our Table: Shared Meals cook book!
To Win
1 – Enter the Rafflecopter below to be entered to win the Kitchen Aid Stand Mixer that is running on all Gay Lea Ambassador blogs.
2 – Leave a comment telling me your favourite kind of shortbread to be entered to win the cook book as well!
Details:
Giveaway is open to Canadian residents excluding Quebec.  Cookbook giveaway winner will be drawn at random from blog comments on this blog on November 23, 2013 at 9 pm EST and contacted by me to coordinate delivery.
Disclosure: I am part of the Gay Lea Blogger Campaign with Mom Central Canada and I receive special perks as part of my affiliation with this group. The opinions on this blog are my own.  I am not responsible for the amount of shortbread cookies you may eat in the next few weeks 😉