Getting kids active in the kitchen is something that I like to do.  Granted, I don't do it for every meal, and when I'm in a rush, letting little sticky fingers 'help' me isn't usually the best approach, but there are often so many ways that the kids can help out and really get interested in baking and cooking.
Given the amount of baking that is happening in this house right now in preparation for Christmas, it's no surprise they are happy to help out.
Every year we make a basic sugar cookie that is cut into stars or trees or some fun festive shape that we then ice and add edible decorations to. In past years, I involve the kids in the whole process, right from 'let's bake cookies!' to the 'now that they are all decorated you can pick one to eat' stage.  But that means I am prepping dough, waiting for dough to cool, rolling and cutting dough, all while having some help from the kids, but I mostly spend that time hearing 'are they ready yet?'
This year, I wised up, and prepped all of the cookies, letting them cool even, before the kids got home from school.  We spent the afternoon enjoying decorating the cookies and getting creative.  I set up a decoration station that included everything they would need – each topping in a small bowl, their own icing bowls and so on.
This would be a really simple and engaging (if not maybe a bit messy) activity to do with kids while you are on holidays, or if you are hosting kids for a Christmas or New Year's Eve party.
I loved their creativity. My son made a family of cookie people to give to friends and my daughter prettied up a series of stars that she was very proud of.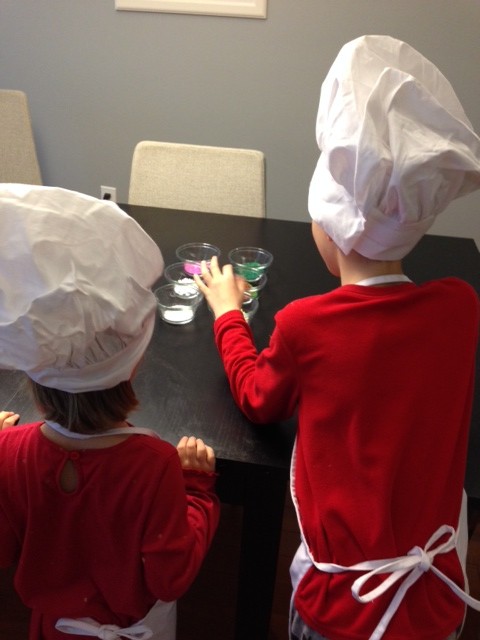 My cookie recipe is easy and tasty enough that they don't even need icing.  Use your favourite Royal Icing recipe to top them, or do what I do and simply mix icing sugar, vanilla and small amounts of water until the consistency if what you would like.
Recipe: Sugar Cookies
Ingredients:
1 cup of Gay Lea salted butter
1/2 cup icing sugar
2 tbsp sugar
2 cups flour
1 egg
Directions:
1- Cream butter and sugars.
2- Add egg, mix well.
3- Add flour, small amounts at a time until everything is well blended.
4 – The dough should form into a ball easily and not be dry.  Wrap in plastic wrap for 30 minutes or so.
5- Dust rolling space and rolling pin with flour and roll dough until less than 1/4 inch thick.
6- Bake at 300 for 15-25 minutes, or until the edges or bottoms are beginning to get golden brown. (Cooking time will depend on the oven and cookie sheet.)
7- Let cool completely before decorating
____
*this post was originally in partnership with Gay Lea many years ago.