I love Cottage Cheese.  It's something that is almost always in my fridge. In high school I would eat it as a bedtime snack.
Cooking with cottage cheese is fantastic.  It's long been the cheese source in my lasagna (as it was in my mother's recipe).
I decided to play around with my traditional lasagna recipe and convert it into a cannelloni recipe using Gay Lea Cottage Cheese.  I have to admit that I have an unhealthy love of noodles stuffed with something.  Give me a cannelloni or a ravioli and I am happy.
This recipe can be prepared in advance and frozen or makes an easy pot luck/buffet meal when entertaining.  It's vegetarian and very easy to make.  If you don't want to stuff the cannelloni, use the same ingredients and layer them into lasagna noodles.
Keep an eye out after the recipe for a great giveaway too!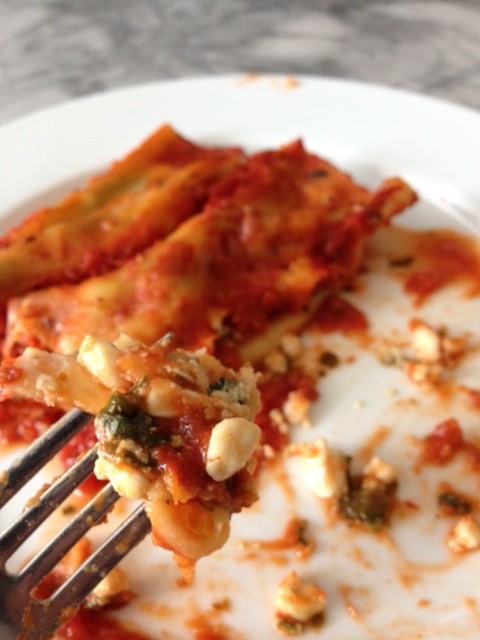 Recipe: Spinach Cannelloni
Ingredients
1 box oven ready cannelloni
1 jar pasta sauce (about 5.5-6 cups) – look for low sodium!
1 cup water
1 egg
1 cup cottage cheese
1 cup shredded mozzarella
4 cups chopped spinach
2 tsp pepper
Directions
1- In a bowl, combine cottage cheese, 1/3 cup mozzarella, chopped spinach, egg and pepper.
2- Separately, combine the jar of pasta and the water.
3- Cover the bottom of a 9×13 casserole dish with 1.5 cups of sauce mix.
4- Stuff each cannelloni shell with cottage cheese and spinach mixture.  You can use small teaspoons but it's easier to just use your hands.
5- Line each stuffed cannelloni up in the casserole dish.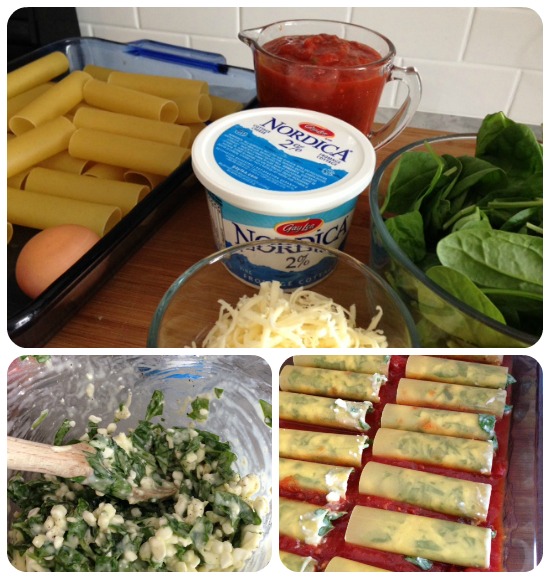 6- Pour the remaining sauce evenly over cannelloni. Top with remaining shredded mozzarella.
7- Bake at 350 degrees for 1 hour. Let rest at least 10 minutes before serving.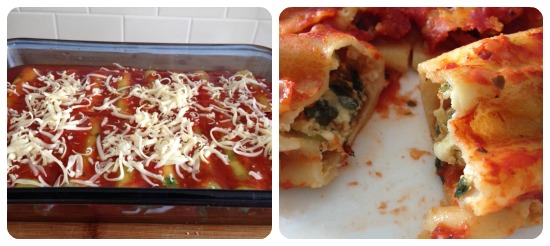 Enjoy!
Enter to win with Gay Lea – two different giveaways!
Gay Lea has a really great giveaway right now.  You can enter to win a Breville Die-Cast Hemisphere Blender.
a Rafflecopter giveaway

Also, comment below for your chance to win 12 coupons for Gay Lea Cottage Cheese!  Just let me know how you'd like to try cottage cheese next time you have it in your fridge.
*****
notes: Giveaway open to Canadian residents, excluding Quebec.  One winner from across all Gay Lea Food Ambassador draws will be chosen for the Breville Blender.  One winner from each Gay Lea Food Ambassador blogs will be chosen for the coupons.  You may enter across all blogs, but can only win once.   Winner for the coupons will be drawn on this blog on January 17 at 12 pm EST.  Good luck!
Disclosure:  I am part of the Gay Lea Blogger Campaign with Mom Central Canada and I receive special perks as part of my affiliation with this group. The opinions on this blog are my own.