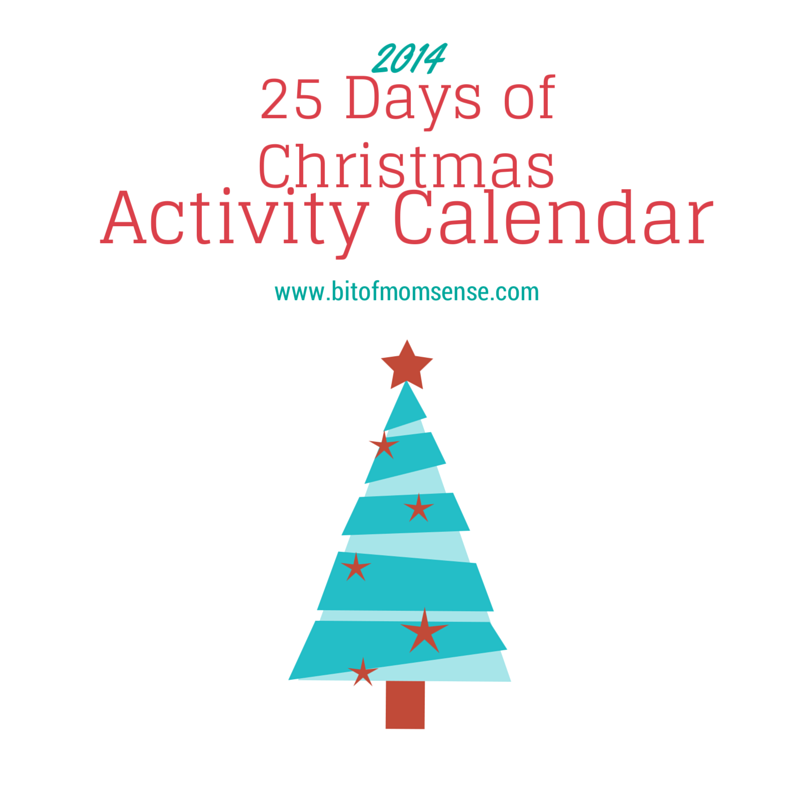 It's that time of year again! We will be pulling out our advent calendars for the kids on December 1.  As with the past many years, we are once again doing the 25 Days of Christmas Activity Calendar.
I started this in 2009 after reading the post from Andrea of a Peek Inside the Fishbowl about the 25 Days of Christmas.  I thought it was such a fun, unique way to celebrate the month of December and ensure a little bit of patience from the kids who were excited.
Each year, it's been a wonderfully fun activity that all of us look forward to.
If you are just starting one, I recommend pulling out your calendar while you pick the activities.  I can't set up a tree decorating day on a school day (that's a family event for the weekend) and so on therefore knowing which dates we are available for activities is important.
What isn't on the list are activities we typically do anyway – sledding, skating, snowman building; those are left as part of our everyday winter fun.
Get creative with your list! Customize it based on the age of your kids.  And, as always, swipe any ideas from my list that you think your family will love.
25 Days of Christmas Calendar 2014
1. Write and mail letters to Santa.
 2. Go to the Cumberland Museum Village of lights
 3. Dessert for supper, supper for dessert!
 4. Sing Jingle Bells – get a special chocolate treat
 5. Make hot chocolate.
 6. Get the Christmas Tree!
 7. Pack up! We are going to Chateau Montebello today!
 8. Decorate the Christmas Tree
 9. Sing Frosty the Snowman. Enjoy a special chocolate treat.
 10. Play the 'wrapping paper' music game – find a surprise!
11. Make paper snowflakes and decorate the windows
 12. Bake a batch of Christmas cookies.
 13. Sing Rudolph. Enjoy a special chocolate treat.
 14. Make a list of ten things we are thankful for. Hang it where you can see it every day.
 15. Buy and Bring a toy to Toy Mountain
 16. Play Christmas hide and seek with a Christmas bear! Can you find him?
 17. Go for a drive to see Christmas lights
 18. Bring Snow in the house to play in a bucket. Put some in the freezer, some in the fridge. What happens? Read the book 'Snow'
 19. Go to Upper Canada Village to see the lights
20. Christmas PJ party! Stay in your pjs all day, watch Christmas shows, read Christmas stories and snuggle!
 21. Bring snow inside to play with. Read books about Snow
 22. Sing We Wish you a Merry Christmas. Enjoy a chocolate treat
 23. Bake Christmas cookies and deliver some to your friends and family
 24. Unwrap one present (mommy and daddy get to pick which one)
 25.  It's Christmas Day. Remember you have a family who loves you. And that's the most important gift of all.
Previous Years (the list grows with my kids, a few of the previous activities we've done may be helpful for your toddler/preschoolers!)