There are nights that I just don't want to cook. No matter how much I enjoy it (I really do!), some days it's simply hard to feel motivated.  I think many of us have these nights. We look to our freezers in hopes that there's some casserole we forgot about, or turn to the classic, crowd-pleasing 'breakfast for supper', which for the record is a perfectly delicious supper.  This is also another reason that I love slow cooker recipes – they are easy and when the 4 pm lull about supper comes around, I don't need to worry, because morning-me was prepared and had me covered.
In this case, I need to use up some fresh goods in the fridge. I ended up settling for an easy taco salad. In the end, I feel this was hardly settling at all.
I love that this can be made with so many variations. Add left over chili, your favourite beans, pulled chicken – anything! Also, it's easy enough that you can throw it together for a weekday lunch (handy for those of us who work from home.)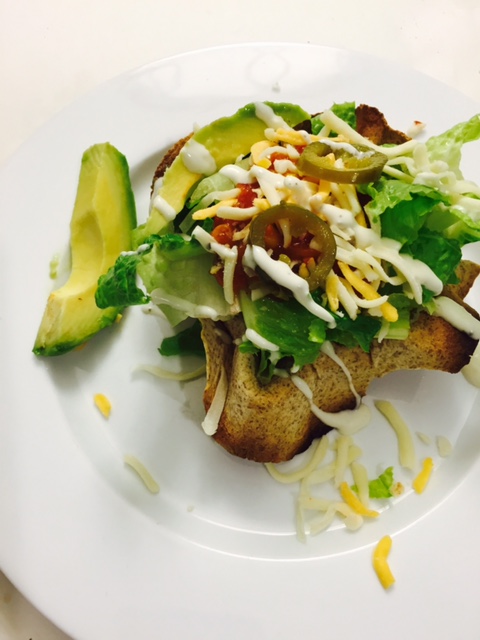 Easy Taco Salad (makes 2)
2 soft taco shells
2 cups chopped, crisp lettuce
4 tbsp your favourite salsa
1/2 cup Kraft Tex-Mex shredded cheese
1 avocado, sliced
1/4 cup ranch dressing
Favourite toppings (chopped green onions, pickled jalapenos etc. optional)
Directions:
Using the back of a muffin tray, fold in your tortilla shells to make bowls – bake until crisp. (Check out the Kraft Food Hacks website for more details on how to do this)
Meanwhile, chop the lettuce and other toppings.
When the shells are ready, set them right-side-up on your plate. Fill with lettuce, then add your toppings, holding back the ranch dressing. Add slices of avocado to the side of the dish as well for presentation.
Drizzle with the ranch dressing.
TIP: To make it easier (and prettier!), put the dressing in a small plastic baggie and cut a small tip to drizzle. 
ENJOY!
Disclosure: This post is part of my partnership with Kraft Canada as a What's Cooking contributor. Opinions are all my own.  My random meals are also my own with some inspiration from the Kraft Canada website.